Features
Denim specialist, trend consultant and Instagram Pop Culture journalist, Sam Trotman, better known to his thousands of Instagram followers as @samutaro, takes us through the collector's paradise that is his East-London home. Unpacking his favourite Dalston hot-spots, books and t-shirts including Nirvana Vestibule, Seditionaries Tits tee and a Tony Hawk-signed Powell Peralta, get to know the creative space behind the author of write-ups you're 
actually
 interested in. Check it out below...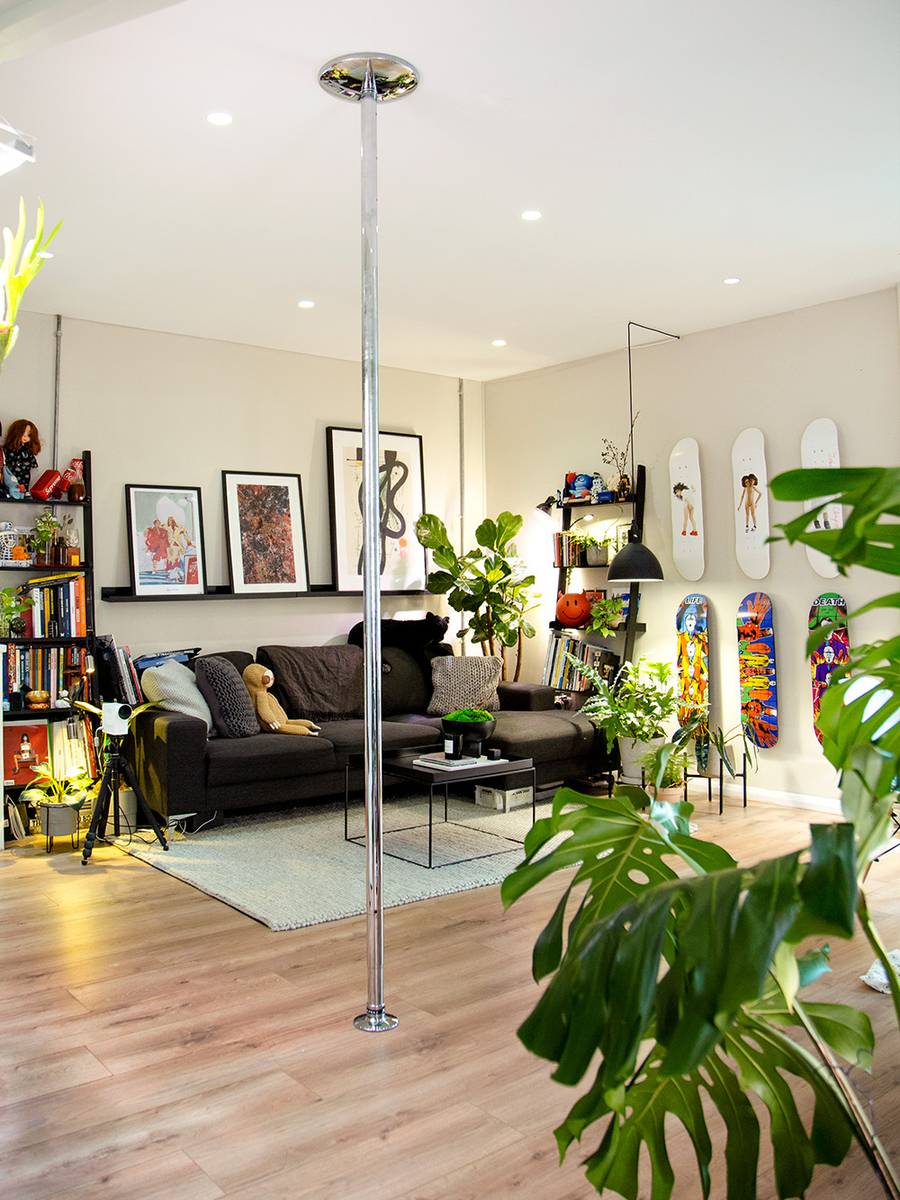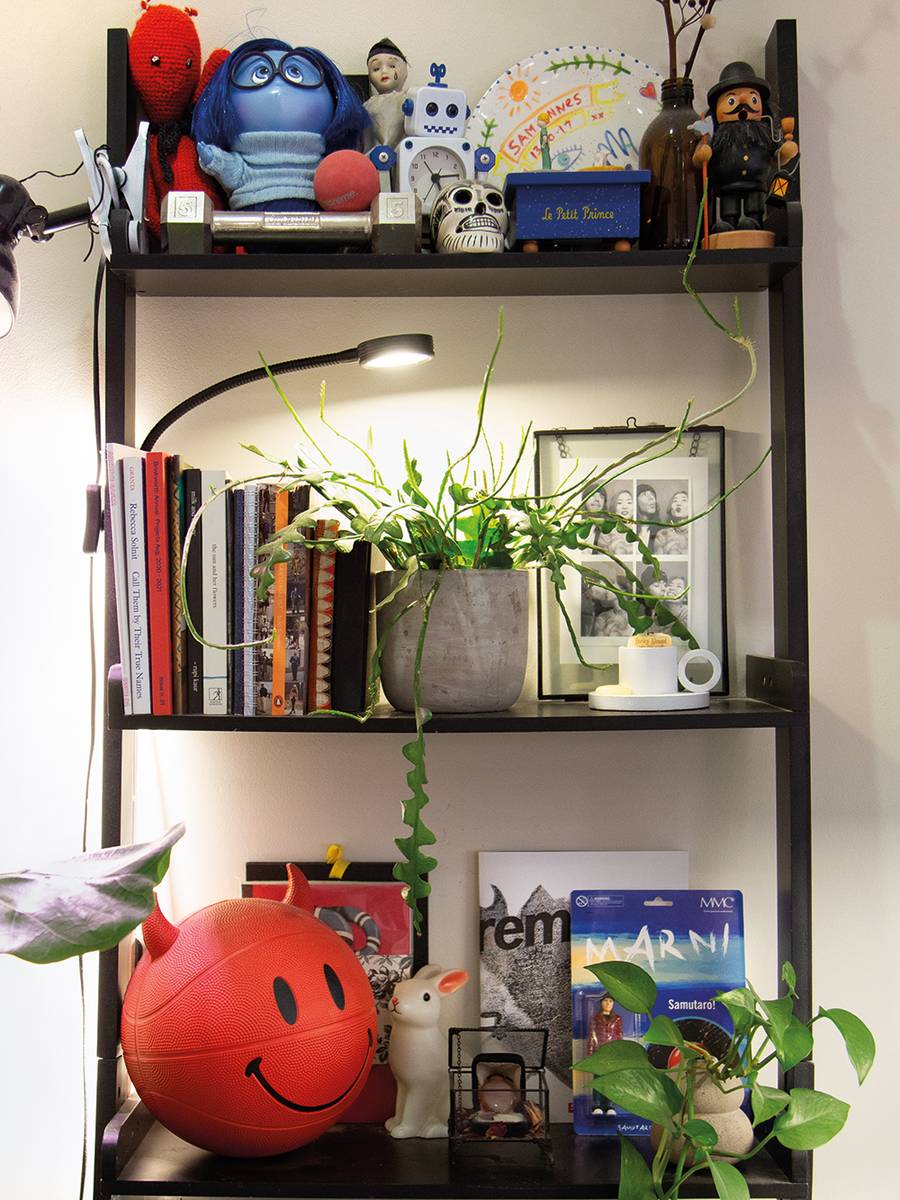 GOODHOOD: To those who don't know, who are you and what do you do?
SAM TROTMAN: My name is Sam and I'm a trend consultant and mind behind @samutaro, an IG page that focuses on style, art and everything pop culture.   
GH: Can you talk us through a day in the life?
ST: First thing in the morning I head out for a run. This is an essential part of my day to not only do my exercise but to gather my thoughts and ideas. Most working days are quite varied. I could be researching and writing for a culture-based article, out shooting a new talent I've discovered in London, or I could be away somewhere for an event. Travel is definitely one of the perks of what I do as I get to experience new places and meet new people.
GH: Who or what is the inspiration behind your interior design choices?
ST: As I live and work at home, it's important to have a space that is clean and tidy. Cluttered spaces have negative effects on my stress and anxiety levels, as well as my ability to focus so I'm always trying to stay on top of that. We haven't invested in too much furniture right now as we are renting and looking to buy next year. Once we get a space we can figure out the direction we take the interior.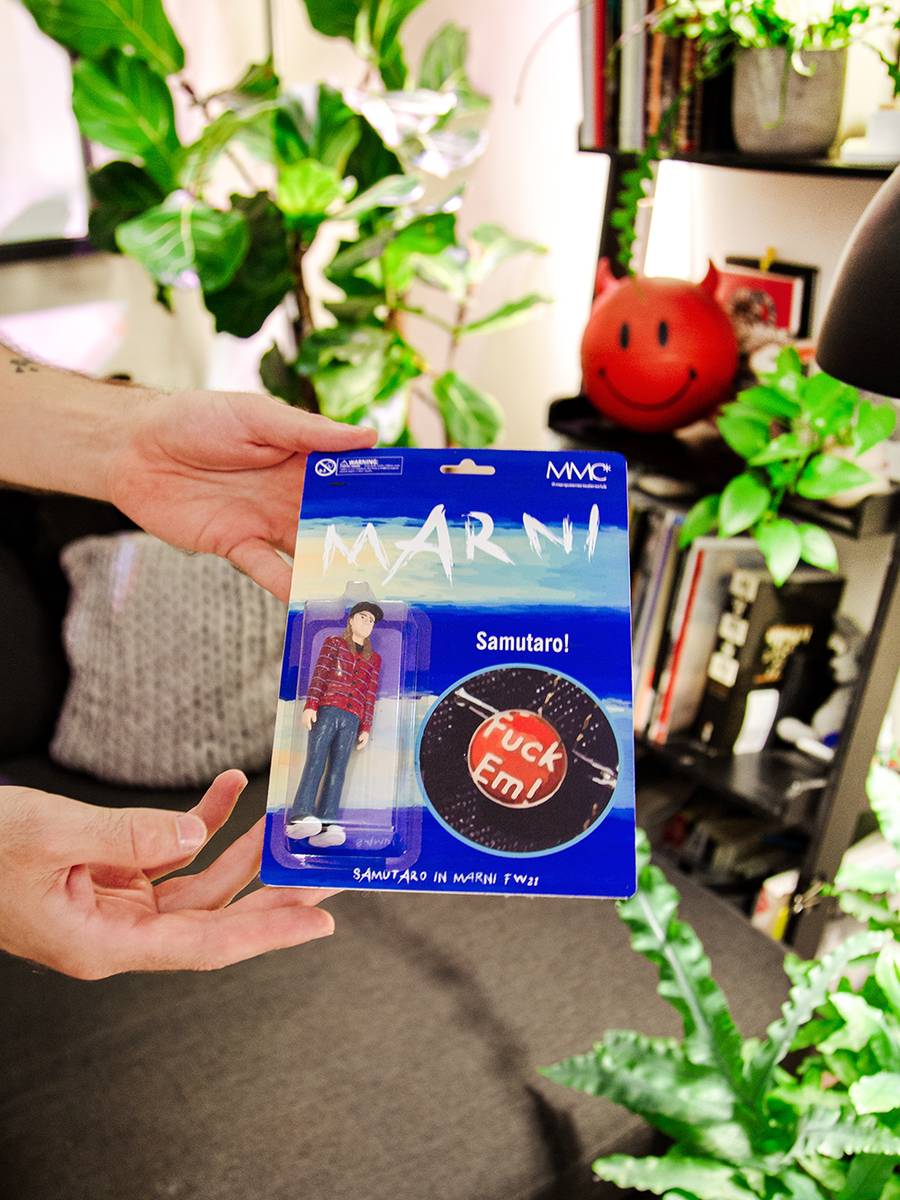 An action figure of Sam, produced by Marni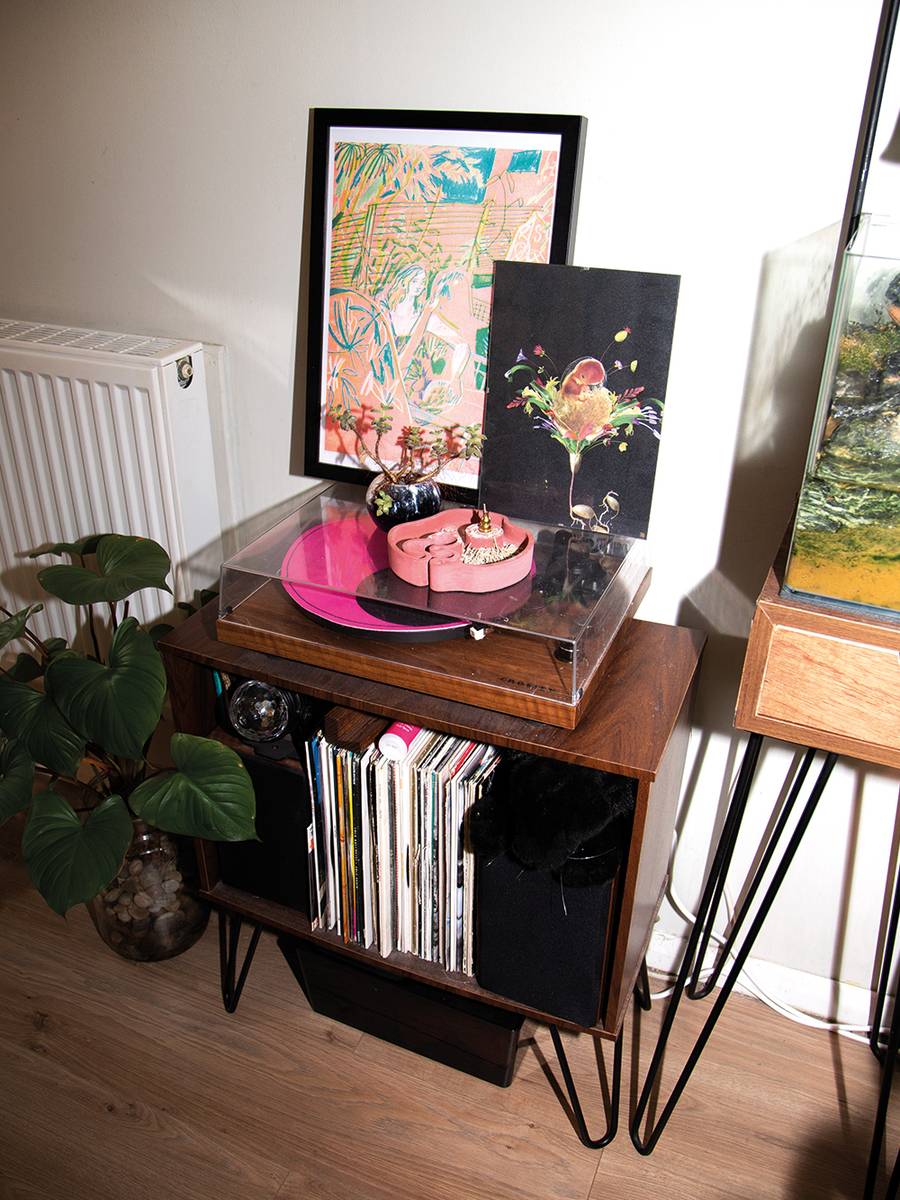 GH: What are your favourite things that you collect?
ST: I'd probably say vintage t-shirts are up there. It's very similar to record collecting, in the sense that they show a level of commitment to the history of music or a subculture. There are often great stories behind each piece and to me nothing beats the look and feel of aged graphics and worn-in cotton -  it's mesmerizing. A few of my favorites are Nirvana Vestibule, Seditionaries Tits tee and a Powell Peralta one which is signed by Tony Hawk when he was on the Bones Brigade team. 
GH: East London is your home, what sets it apart from other parts of London?
ST: I've been living in Dalston since 2010 and love the area for its cultural vibrancy. You've got incredible food spots like Mangal, Peppers n Spice, Angelina as well as bars like Untitled, Ridley Road Market Bar and Three Sheets or event spaces like Cafe OTO, EartH or Gillett Square where NTS often host summer parties.
GH: Favourite books you own, and why?
ST: Cobain UNSEEN, Eric Brunetti FUCT, Virgil Abloh's "Something's Off, Davide Sorenti ArgueSKE 1994-1997. These are all books I can delve into and find new inspiration each time.
"TO ME NOTHING BEATS THE LOOK AND FEEL OF AGED GRAPHICS AND WORN-IN COTTON - IT'S MESMERISING"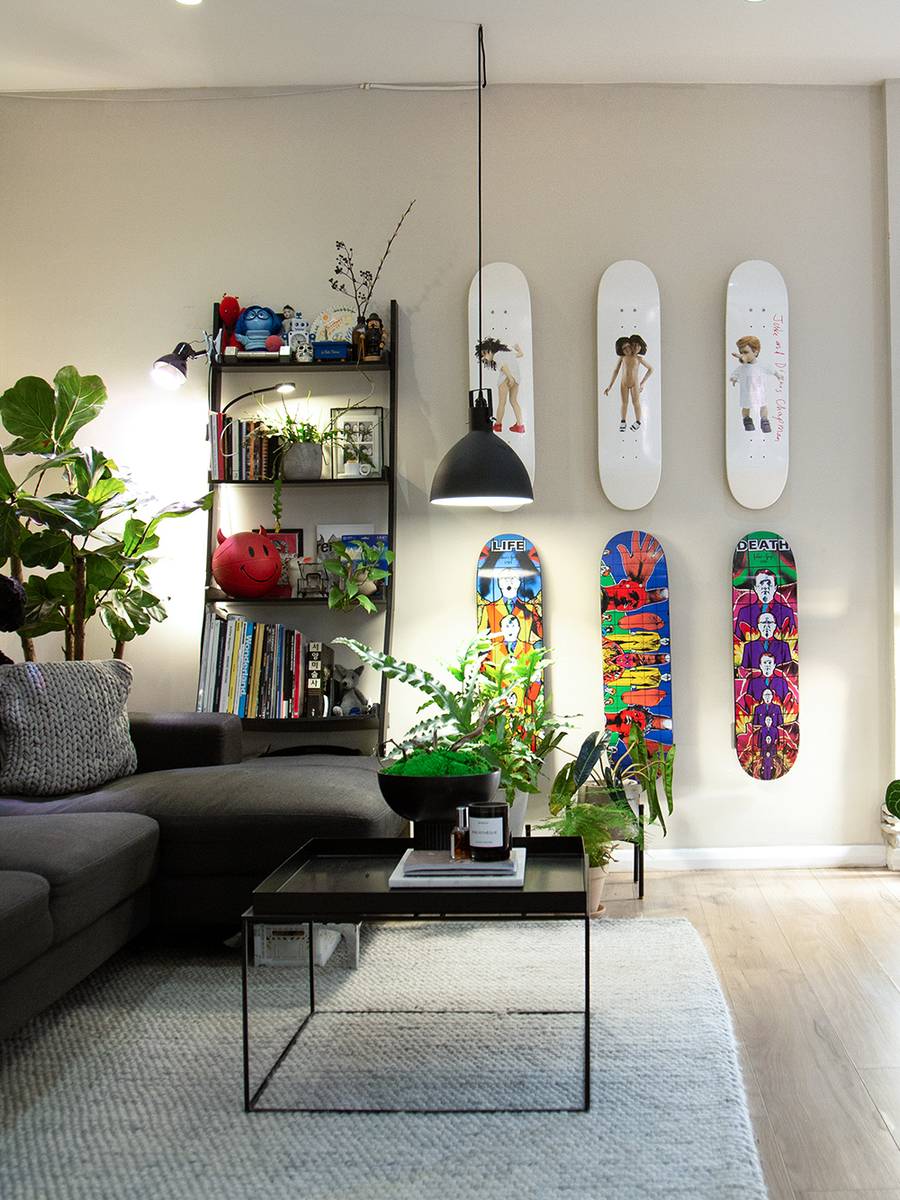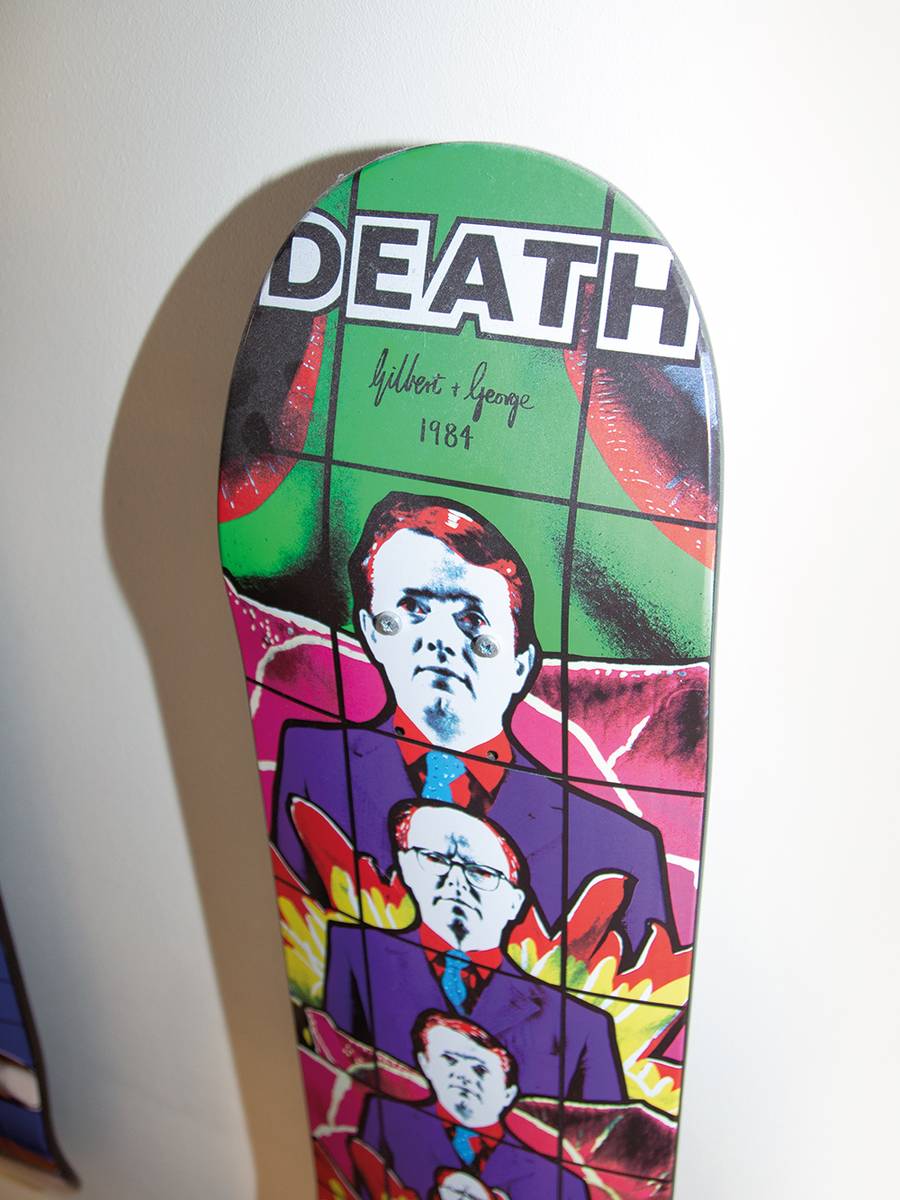 Gilbert & George x Supreme skatebaord, signed by Gilbert & George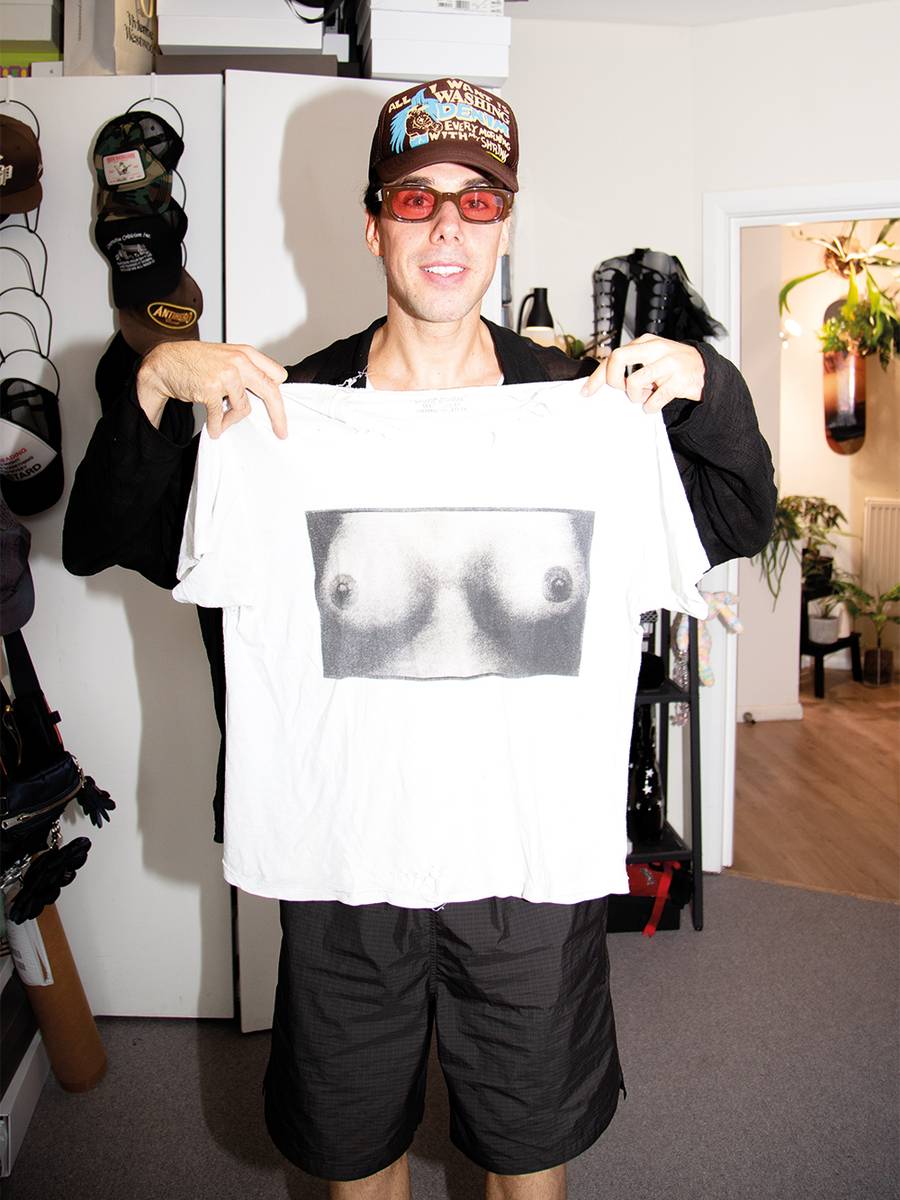 Seditionaries Tits T-Shirt
GH: How do you separate life and work when both are going on in the same space?
ST: I've always been passionate about fashion and culture so I see it as one and the same.
GH: Marni made you into an action figure, very cool. How did this come about?
ST: The team at Marni have been really supportive of the content I create on @samutaro and thoughtfully included me in that project. The idea was to celebrate the inspiring people surrounding Marni by creating a unique one-of-one action figure in collaboration with @marqueemaraudersclub. There were a lot of big names like Dev Hynes, Lil Uzi Vert, Marc Jacobs and Trippie Redd included and then it was just myself and @undercoverosh who were the only IG curators so we were both honoured to receive the gift.
GH: Top 5 fashion design heroes of all time?
ST: Rick Owens, Hedi Slimane, Virgil Abloh, Kiro Hirata, Martin Margiela.
GH: What's your favourite item hanging on your wall, and how did you acquire it?
ST: I've been collecting select Supreme artist decks for a while and have the triptychs for Larry Clark, Jake and Dinos Chapman and Gilbert & George too. The latter eat at a local Turkish restaurant near my flat every night and I managed to get them to sign the decks when I was eating there one night too.
GH: Favourite record of the year so far?
ST: Ragz Originale, Oscar #Worldpeace, BenjiFlow "NOT A GYALIS" (ft. KNUCKS & Nippa) or NEW SKIN ROUTINE. The whole album ICONICY has been a soundtrack to this summer.
GH: What are your top three favourite items in your home, and why?
ST: My wife knitted me the Sonic Youth doll from the cover of Dirty which was originally shot by Mike Kelley's series "Ahh... Youth!" That is one of my favourite things in the house because it took her almost a week to crochet by hand. We also have a painting of the two of us in our wedding suits by artist and illustrator @joeyyu. I recently received a gift from Byredo and OJAS. Devon Turnbull creates amazing bespoke soundsystems and he came together with Ben Gorham for this unexpected collab. It looks like a speaker but is in fact a perfume diffuser.
"[GILBERT AND GEORGE] EAT AT A LOCAL TURKISH RESTAURANT NEAR MY FLAT EVERY NIGHT AND I MANAGED TO GET THEM TO SIGN THE DECKS WHEN I WAS EATING THERE"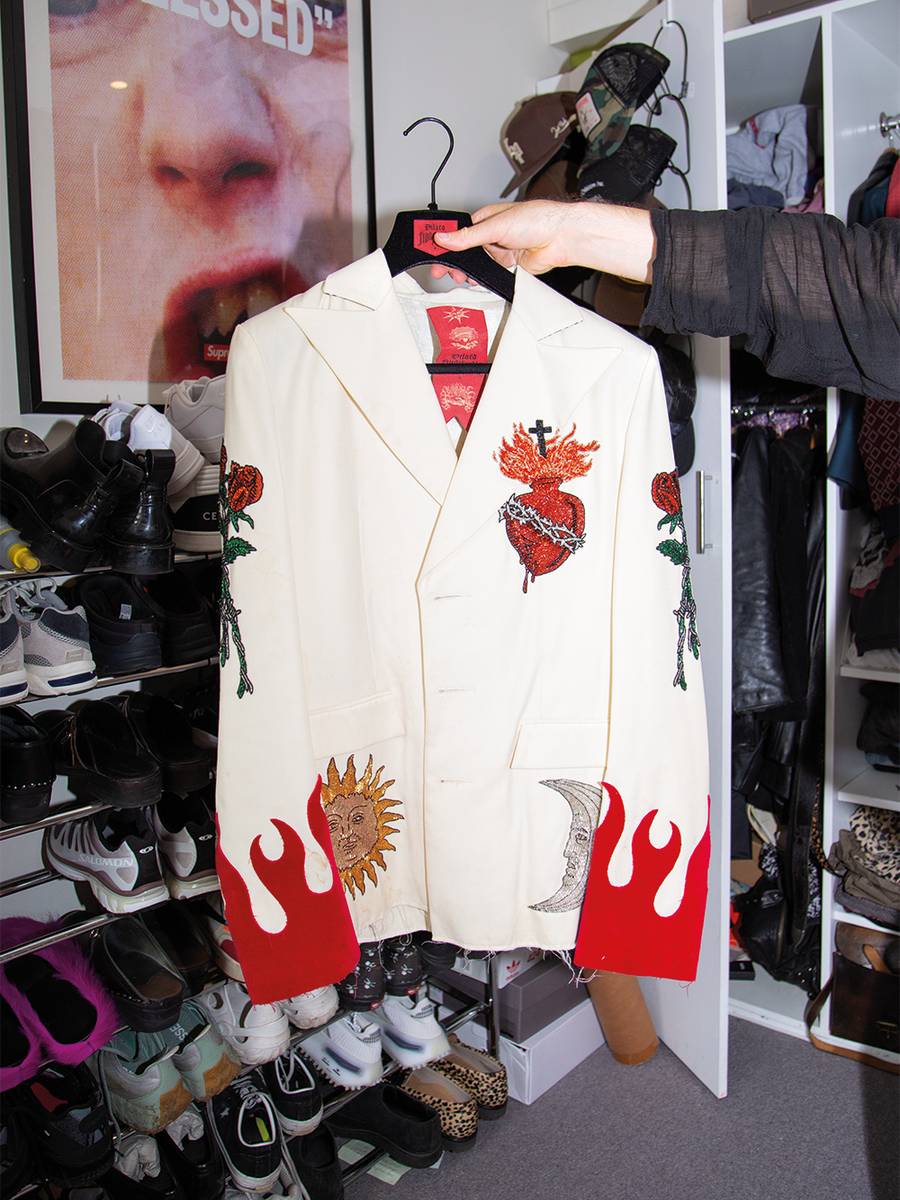 Sam's wedding suit designed by Dilara Findikoglu
GH: What's your 'grail' item of clothing or shoes?
ST: I'd probably say my Seditionaries Tits tee.
GH: Can you go into your t-shirt collection a little bit? Where do you source them from?
ST: I have purchased a lot of my tees from specialists like @jerks.store (formely Teejerker), @burnedout and @seditionaries.in.the.uk but I also do love to hunt for them myself. They can often be expensive on resell, so there's nothing better than scoring a grail at a flea market, vintage store or a random listing on eBay.
GH: What does your creative process look like, how do you find your inspiration?
ST: It really varies depending on the type of post I'm doing. I think the images that do the best are the ones that are either unseen, like a mag scan or just a more rare shot. Tumblr is still an amazing resource. There is still a huge amount of creators on there, despite most content creators shifting to IG once that became the main platform. I like to look at books, old magazines and just going out in the world and discovering new brands or movements first hand. There is only so much you can get online, but it's not always a true reflection of what is happening in the street. It's cool to be out at club nights or in and around the city seeing what's happening. Conversations with my friends also help formulate ideas too as we often share ideas we're seeing emerging.
"THERE IS ONLY SO MUCH YOU CAN GET ONLINE, BUT IT'S NOT ALWAYS A TRUE REFLECTION OF WHAT IS HAPPENING ON THE STREET"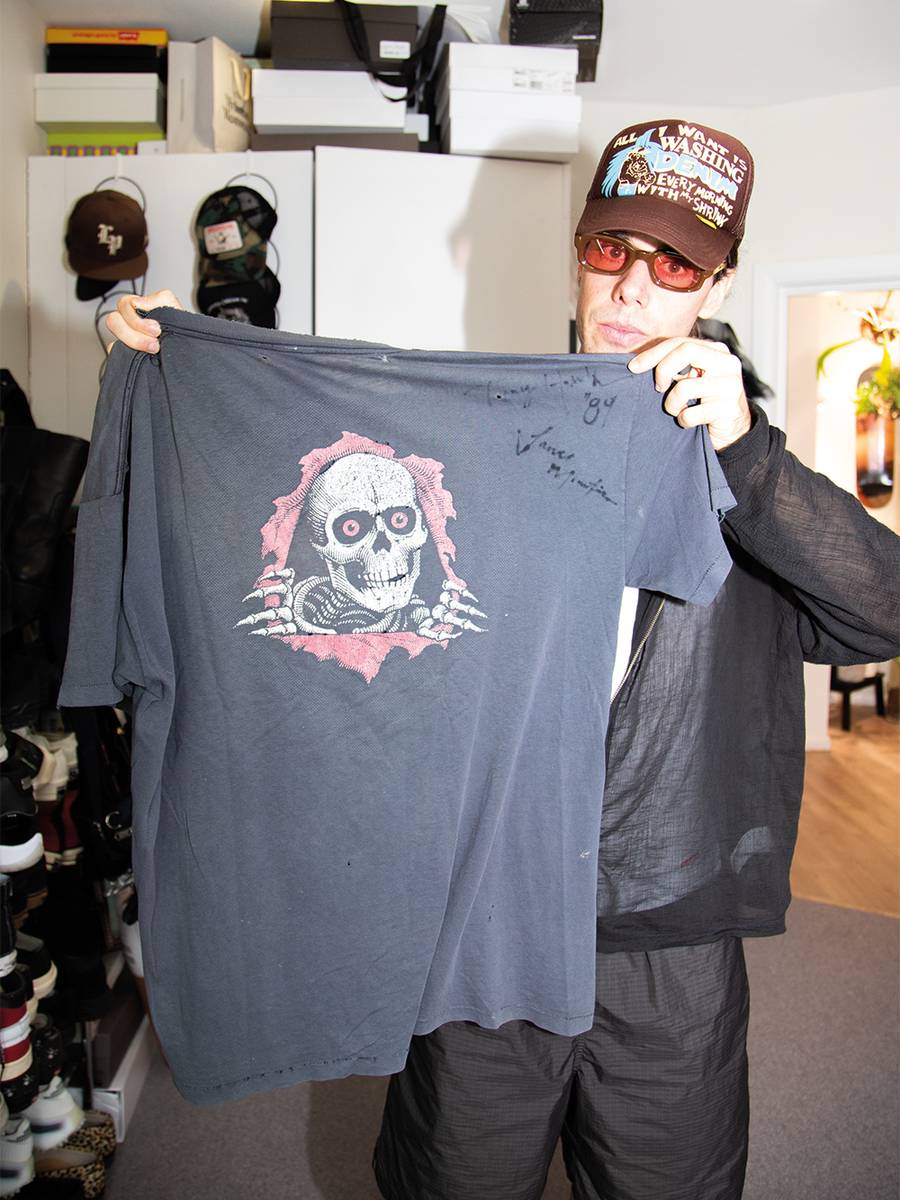 Powell Peralta t-shirt signed by Tony Hawk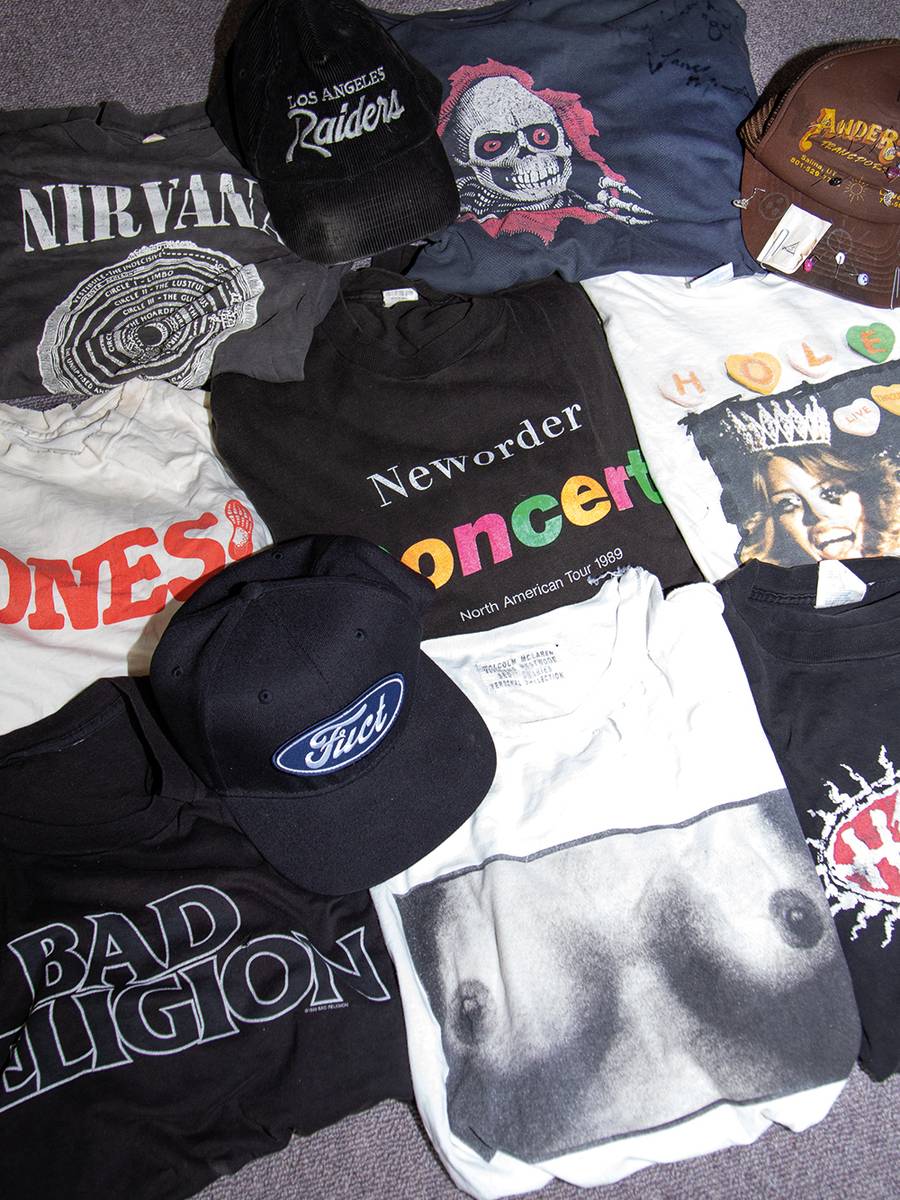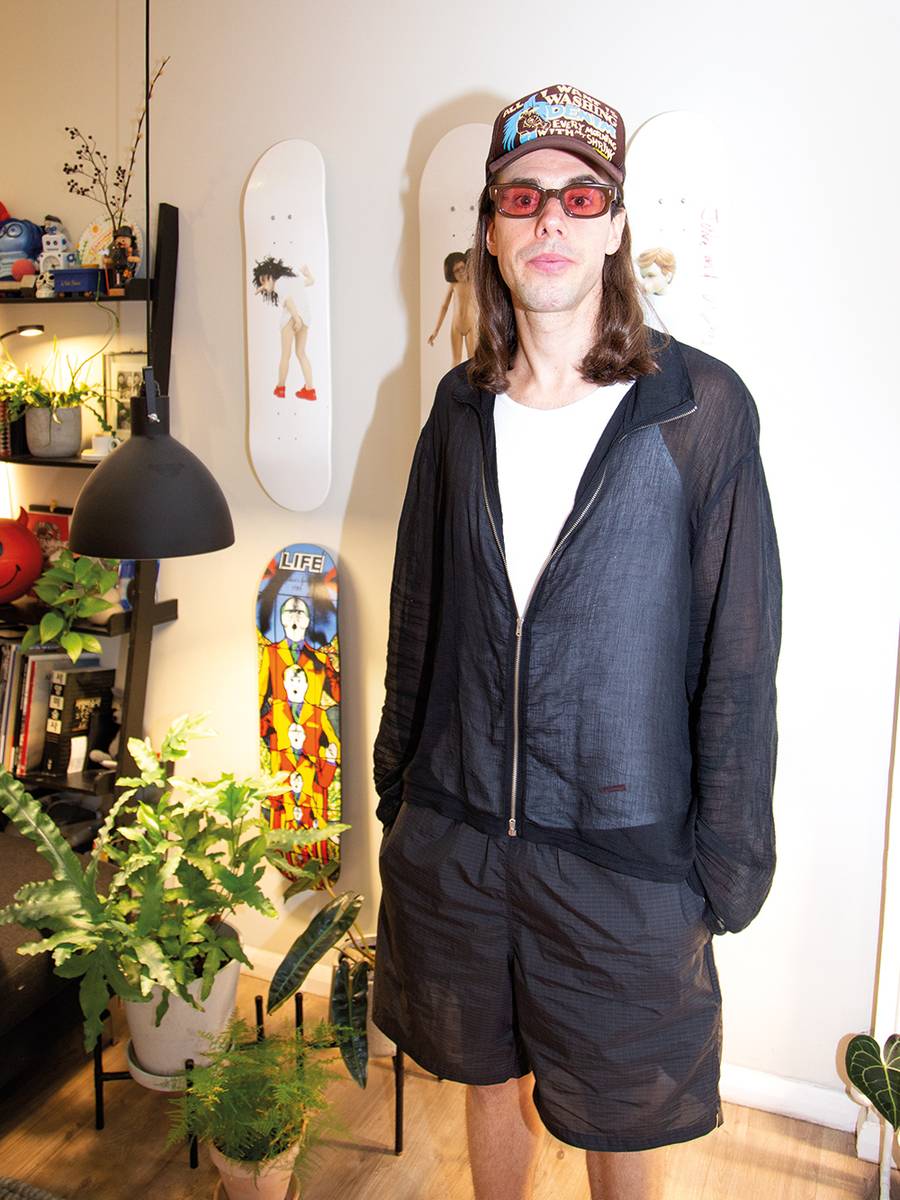 GH: What's your favourite project of the year so far?
ST: Kenzo kindly invited me to do backstage coverage of NIGO's debut show at the maison. It was a really special moment to experience. I had the chance to talk with Pharrell, Kanye, Pusha T and Tyler, the Creator which was amazing in terms of the content I could share with my audience.
GH: Can you talk us through your wedding suit... Who designed it, how was it made? It's pretty incredible.
ST: The suits were both designed and made by our friend and super talented designer @DilaraFindikoglu. The pattern of my suit was based on my father's original wedding suit from the '70s, which he had passed down to me. We kept some of the original elements like the wide lapels and flared pants but then reimagined it with a totally new attitude by transforming it in white and adding flames and embellishments. We referenced the suit Nudie Cohn made for Gram Parsons as well as Bobby Gilespe's wedding suit by Alexander McQueen but added iconography that was more personal to us.
GH: What makes you happy?
ST: Being with my wife.
GH: Can you tell us about any projects in the works? 
ST: I recently released a zine with One Block Down during Paris Fashion Week and we will soon be releasing it as part of a hardback cover book. There is one really exciting projects I'm part of in October but I can't reveal what it is just yet, but it's with a really big name.