Features
Two of our friends and long-term brand partners join forces for another round of special collaborative shoes. California kings of sneakers Vault by Vans, and graphic wizards Brain Dead reimagine two iconic Vans silhouettes; the Authentic and the Slip-On. To celebrate the launch, we spend time in conversation with the Brain Dead team via guest editor Sam Trotman, trend consultant also known as Instagram cultural archive account @Samutaro.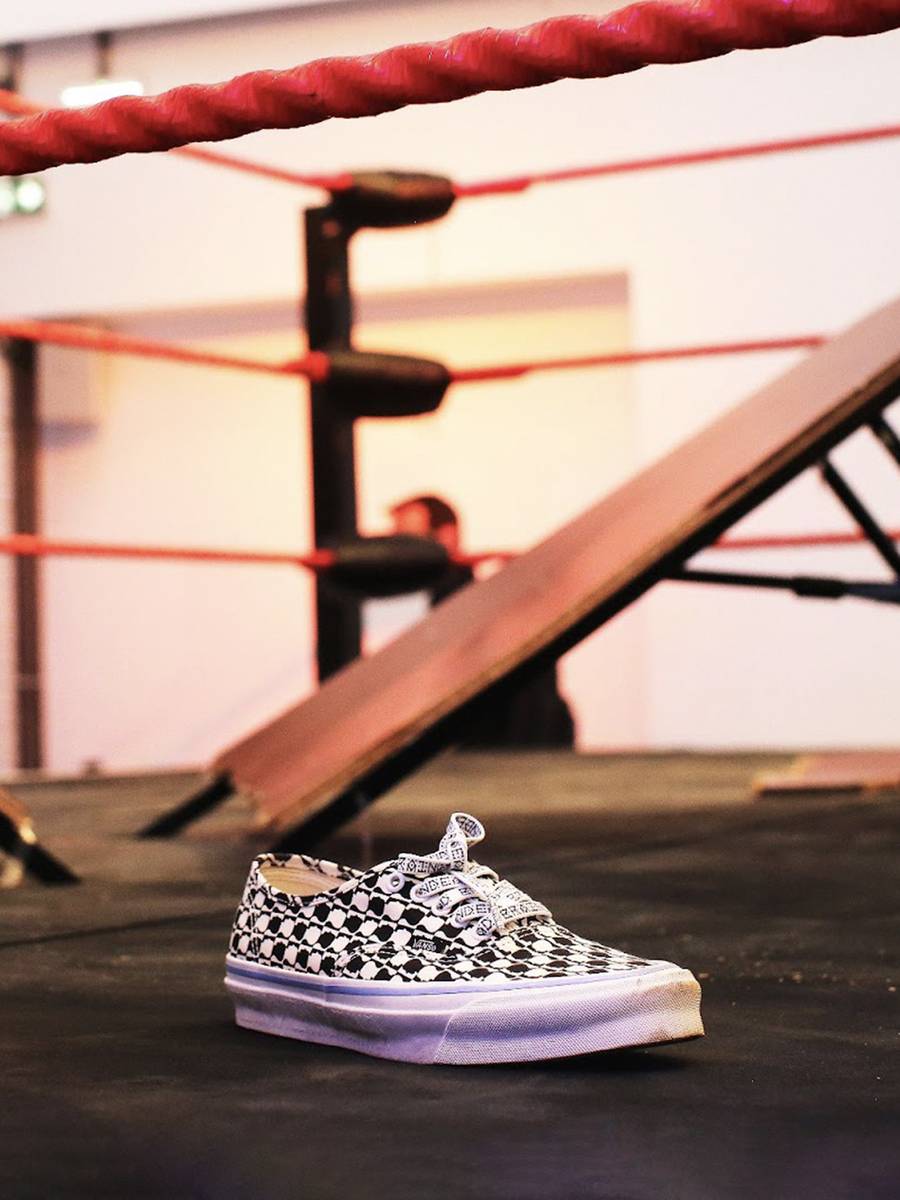 Image credit: Brainslam Pro Wrestling Event presented by Vault by Vans, Paris 2022 @mayolgreenfilms
A wrestling match might not be what you would typically expect to see during the height of Paris Fashion Week, but the squared circle at Brain Dead's Brainslam Pro Wrestling event became the unlikely destination for the fashion pack at the men's Spring/Summer 23 collections in June. "Don't worry about the fashion runways, we're here to fight!" read the Instagram promotion. The Brainslam activation, hosted in partnership with Vault by Vans, was held as part of Brain Dead's latest collaboration with the Californian footwear brand. Although the collection of co-branded sneakers were on display that night, the event was less about pushing product and more about bringing the raw energy of wrestling to fashion week. 
"We're going into wrestling as a form of entertainment, not to sell clothing," the Brain Dead team explained over email. "As we push our company forward we look at ourselves as storytellers, entertainers, a company that brings you culture via entertainment. Clothing is not the end goal."
Indeed, the LA design collective has been building a tightly controlled brand universe that's embedded in lifestyle and culture for years. When co-founders Kyle Ng and Ed Davis first launched Brain Dead in 2014, they created it as an apparel brand inspired by post punk, underground comics and the spirit of subculture. Since then, they have continued to use the platform to incorporate their sprawling interests that span from niche activities like paintballing and rollerblading through to their love for art, cinema and music.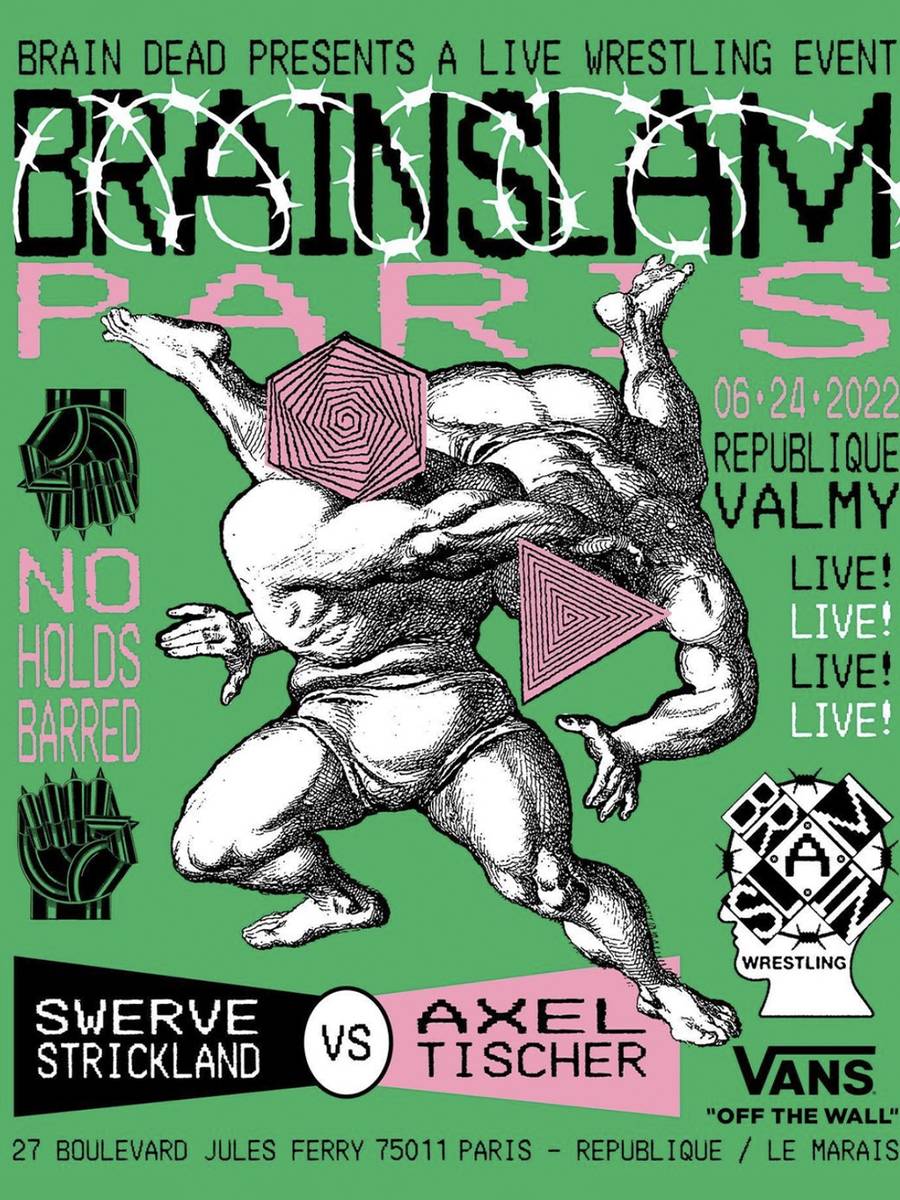 Through the brand, you can watch the most bizarre YouTube shows, catch a forgotten indie movie at their cinema, tune in to a rare music selection on its monthly NTS radio show, and simultaneously support crucial social causes like AAPI Hate. "It's mostly about unconsciously creating your own world," says the creative collective of artists and designers, who aim to connect fans to their niche subcultures through community-driven creativity and lifestyle hobbies. "This makes us by nature real to what we live and to our environment that we call culture." 
While the brand has gained a cult following for its own in-line products, it's the surprising list of co-branded products that have broadened the appeal of Brain Dead to a much wider audience. More often than not, these partnerships are masterminded with the intention to fulfil the hobbies and personal interests of the collective: think Them Skates rollerblades, or Arc'teryx chalk bags for climbing. Musicians are equally important, including apparel collections with the Red Hot Chili Peppers, Freddie Gibbs and fellow rapper Danny Brown, and Scottish indie-pop band Belle & Sebastian.
This idea of community-created products has been part of Brain Dead's DNA since the start. In their own words, 'Brain Dead is not one person, nor is it one idea. It sits in the space between people.' That philosophy has led to an impressive back catalogue of link-ups within the fashion world that include Oakley, A.P.C. and Converse, and has even spread to other categories like food to furniture and sporting goods. Whatever they're working on, one thing is common across all of Brain Dead's projects: it always feels genuine.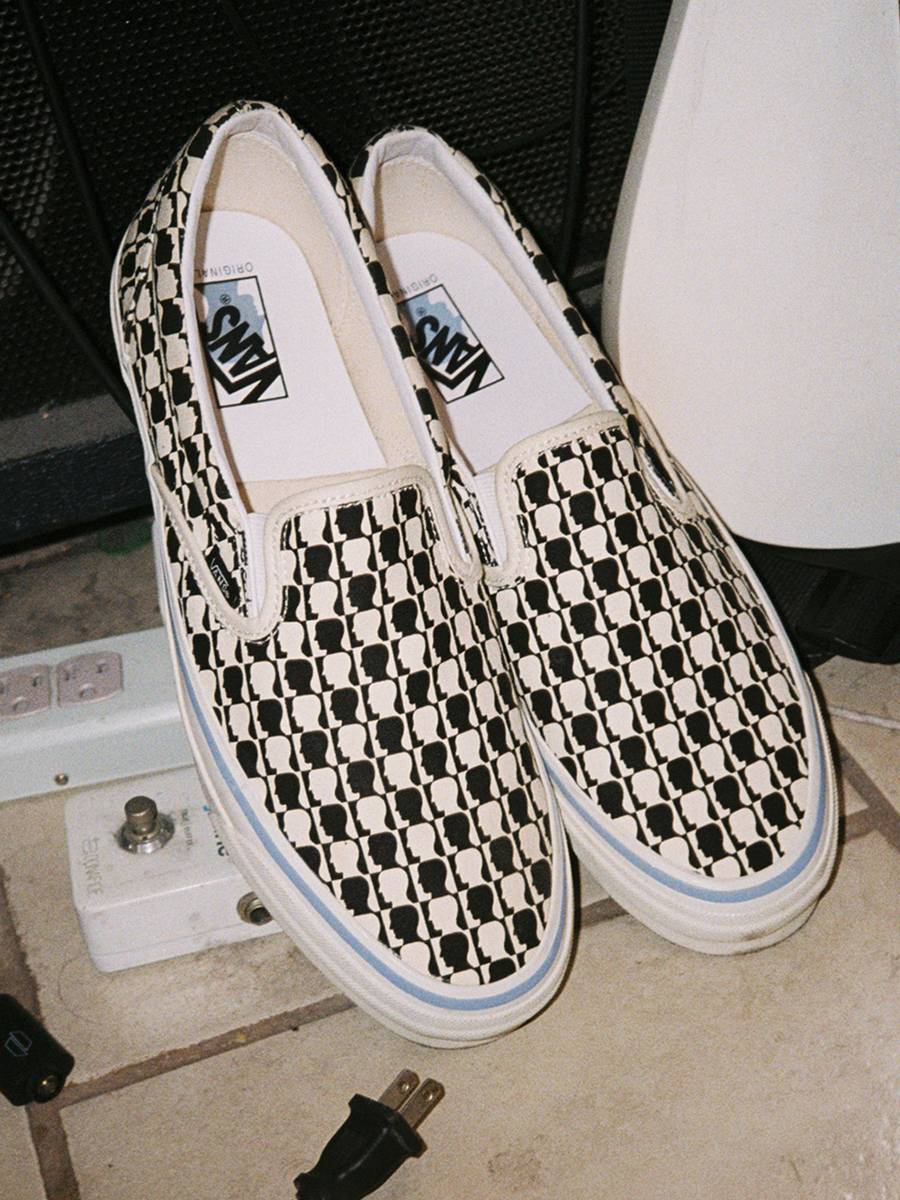 Vans Vault x Brain Dead UA OG Classic Slip-On LX
Vans Vault x Brain Dead UA OG Classic Slip-On LX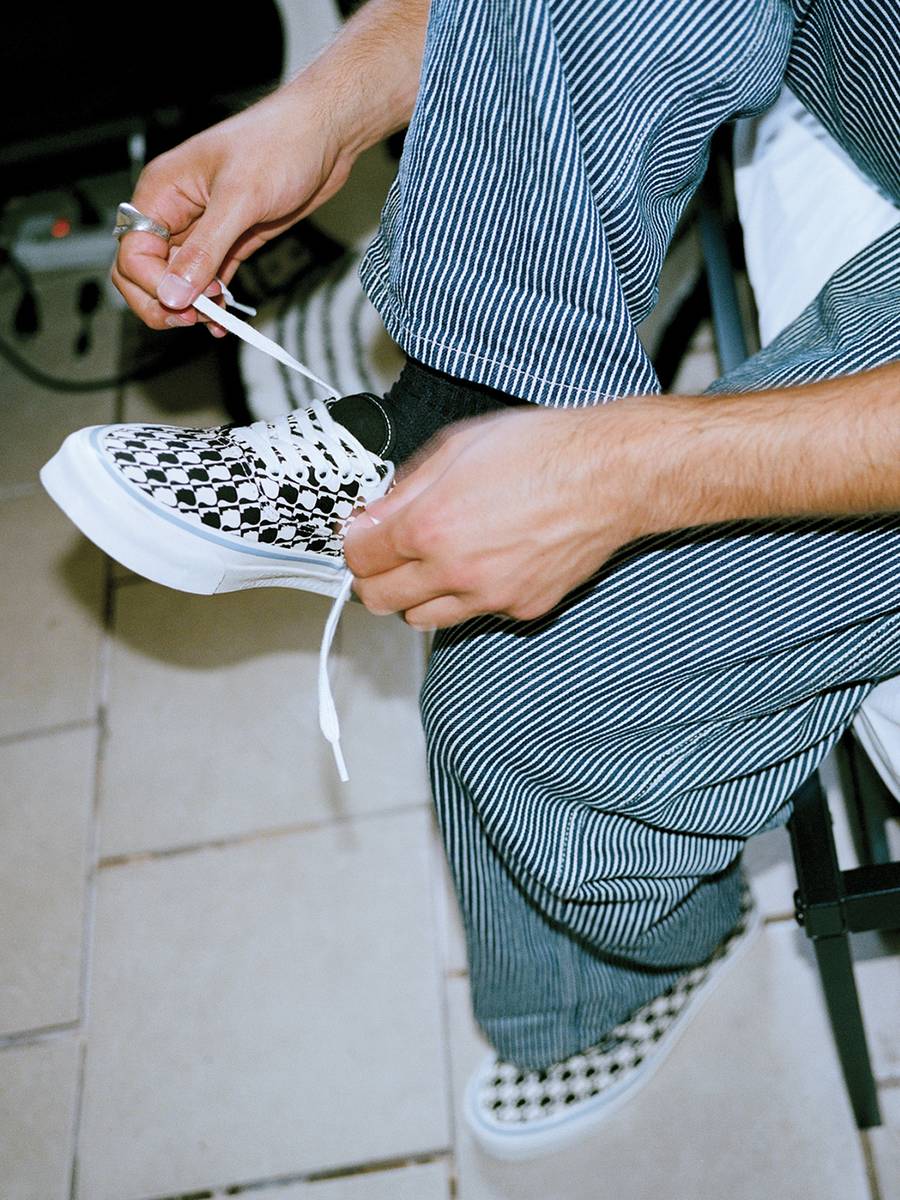 Vans Vault x Brain Dead UA OG Authentic LX
Vans Vault x Brain Dead UA OG Authentic LX
"Usually we go into a collaboration knowing that we can create a product that we would not be able to do otherwise," the team reveals on why collaborations are important to the Brain Dead identity. "If you really think about it, we are always collaborating with factories, stores, and artists. Collaborating with another brand or IP is natural to us as we don't really look at them as competitors."
For Brain Dead collaborations are less of a capitalistic model than a cultural one. More often than not these community-driven projects are used as a way to fuel positive change: in June 2020 they partnered with musician Dev Hynes on a T-shirt that raised over $500,000 for The Movement for Black Lives (M4BL) and the LGBTQ Freedom Fund. That same year, they teamed up with L.A.'s Burger Lords to create a Brain Dead brainded vegan burger. 100% of the proceeds went to support the NAACP Legal Defence Fund and Stop AAPI Hate. And last year, they redirected marketing budget from their The North Face collab into organisations working to get marginalised groups into climbing.
Another way Brain Dead is staying close to the community is via their growing portfolio of directly-owned retail-cum-event spaces. Back in 2021, they opened Brain Dead Studios in an old cinema on Fairfax Street in Los Angeles. The venue screens old horror and indie films, hosts live music gigs and the Slammers restaurant sells iced coffee and hotdogs. Brain Dead's hoodies and latest collections are also sold.
In addition to the LA cinema, Brain Dead also produces artworks and curates art exhibitions in its flagship stores in Harajuku and Silverlake. By investing profits into cultural projects and experiential retail and events like these, the collective is hoping to develop as a merch brand to last. "Our apparel is all just merchandise for a culture." Ng told Vogue Business in a recent interview. "[Customers] buy T-shirts [at Brain Dead Studios] because they're taking away an experience of going to the movies. We do that within climbing, skating, whatever it might be."
Brain Dead's global community continues to grow thanks in part to its unexpected activations and the surprising list of collaborations that emerge each season. To quote Goodhood's own Head of Buying in a recent interview about the brand, "Brain Dead is dynamic and it's engaging — they really push the envelope when it comes to new and interesting approaches to collaboration, especially in the 'post-everything' world we live in. As a fan, you're always left guessing what might come next."
One of this summer's standout collaborations checkered capsule collection of co-branded Vault by Vans and Brain Dead sneakers. The release, which includes the OG Slip-On LX and OG Authentic LX silhouette, play on the iconic Checkerboard design that Vans became synonymous with so long ago. Brain Dead reimagine the OG styles by injecting the brand's signature logo into the heart of the design with a repeating head motif across the shoes.
Speaking on the inspiration behind the collection, Brain Dead admit the process is always very instinctive. "We might hop on calls at night time and work on a specific concept for hours. The best design process for us is to have no process I guess." They point to Steve Caballero's signature shoe as an example. "The Half Cab meant so much for us, even culturally in skateboarding it has such a rich history. While the Lampin was such a great design, so simplistic but in a subversive way so we made sure colours and graphics reflected that."
As two brands born out of the SoCal lifestyle, the link-up makes perfect sense. Kyle Ng grew up in The Bay Area, and has skated most of his life. He favours the Old Skool model and agrees that Vans are a cornerstone for anyone on the West Coast. "Vans have always been part of our lifestyle. Being a brand from California we consider Vans an institution," they say. "They brought the Californian design aesthetic to the world. It's that careless and risk taker energy around Vans products that connects with us. It's not so explicit, but we think the customer really feels that."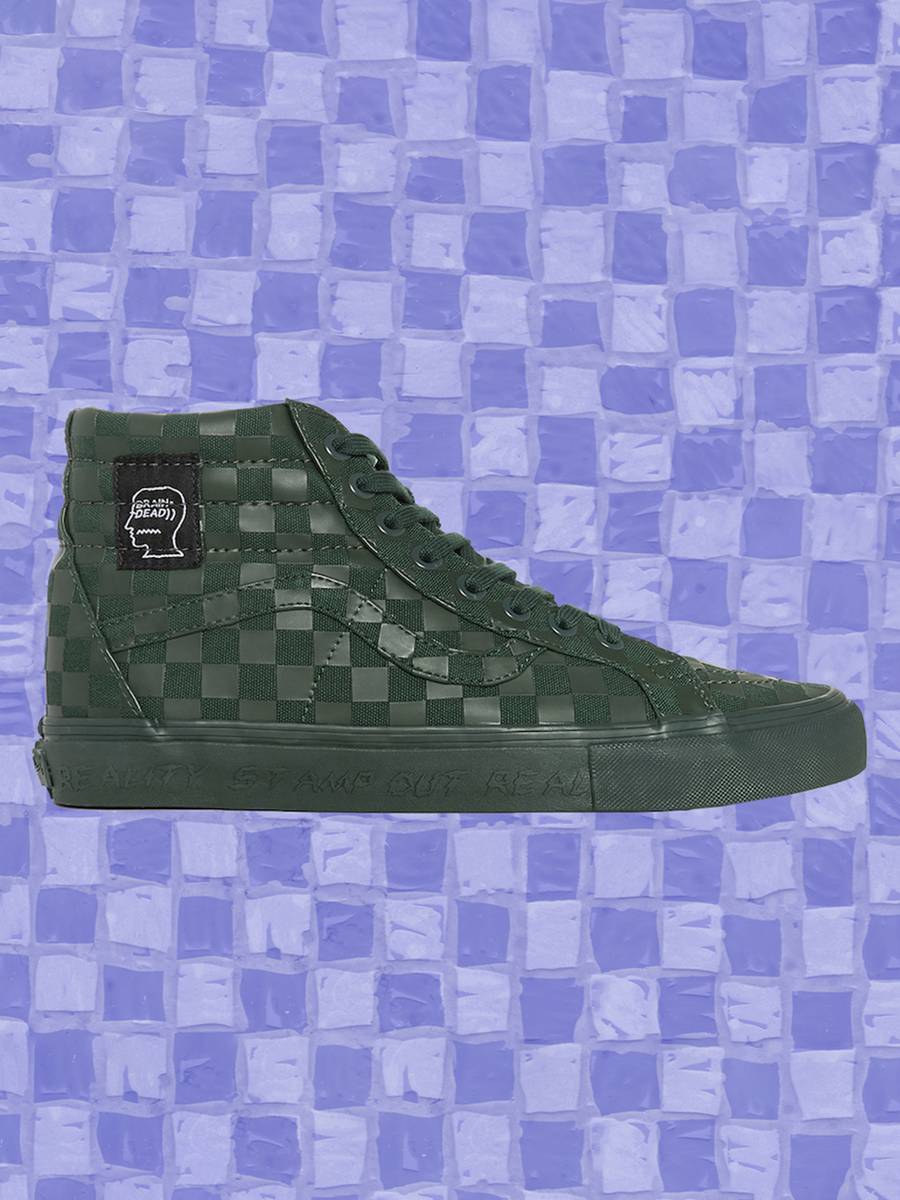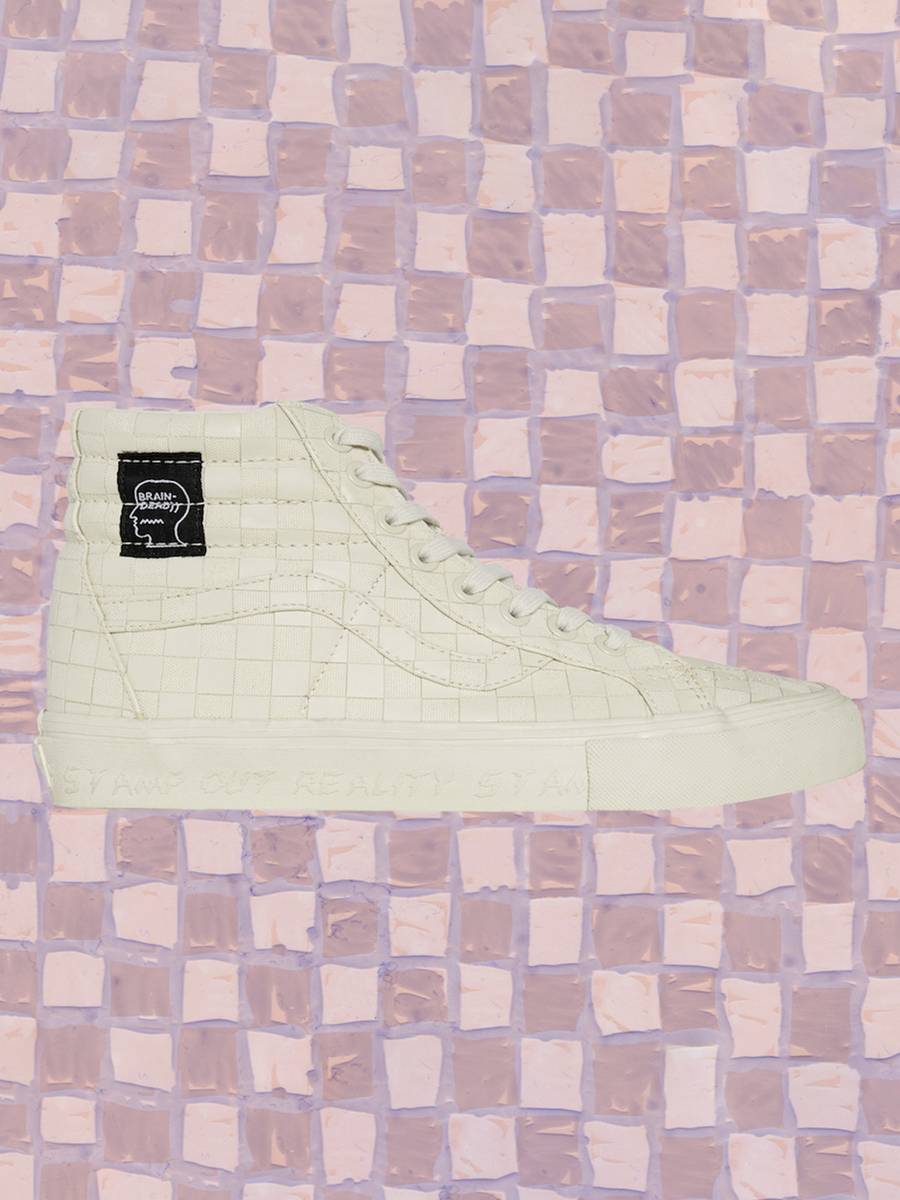 Vault by Vans x Brain Dead DSM exclusive checkered Sk8-Hi, 2017
This isn't the first time the two labels have linked-up. Brain Dead and Vault by Vans originally came together in 2017 to drop their DSM exclusive checkered Sk8-Hi. Later that year, they joined forces once again on a tonal collection of three of Vans classic silhouettes: the Era, Old Skool, and Slip-On. Working with artist Kevin Harris, the second collaboration was inspired by symbolic post-punk references, underground comics culture and skateboarding. Each of the footwear styles utilised bold pastel colours and were plastered with all-over print illustrations by Harris.
To celebrate the release, Brain Dead hosted an activation event at House of Vans Brooklyn. The two bands performing, Battles and Protomartyr, were handpicked by Ng. "It's a dream come true to learn about Vans through music and skate, and now be able to actually pick the music," Ng told Complex at the time.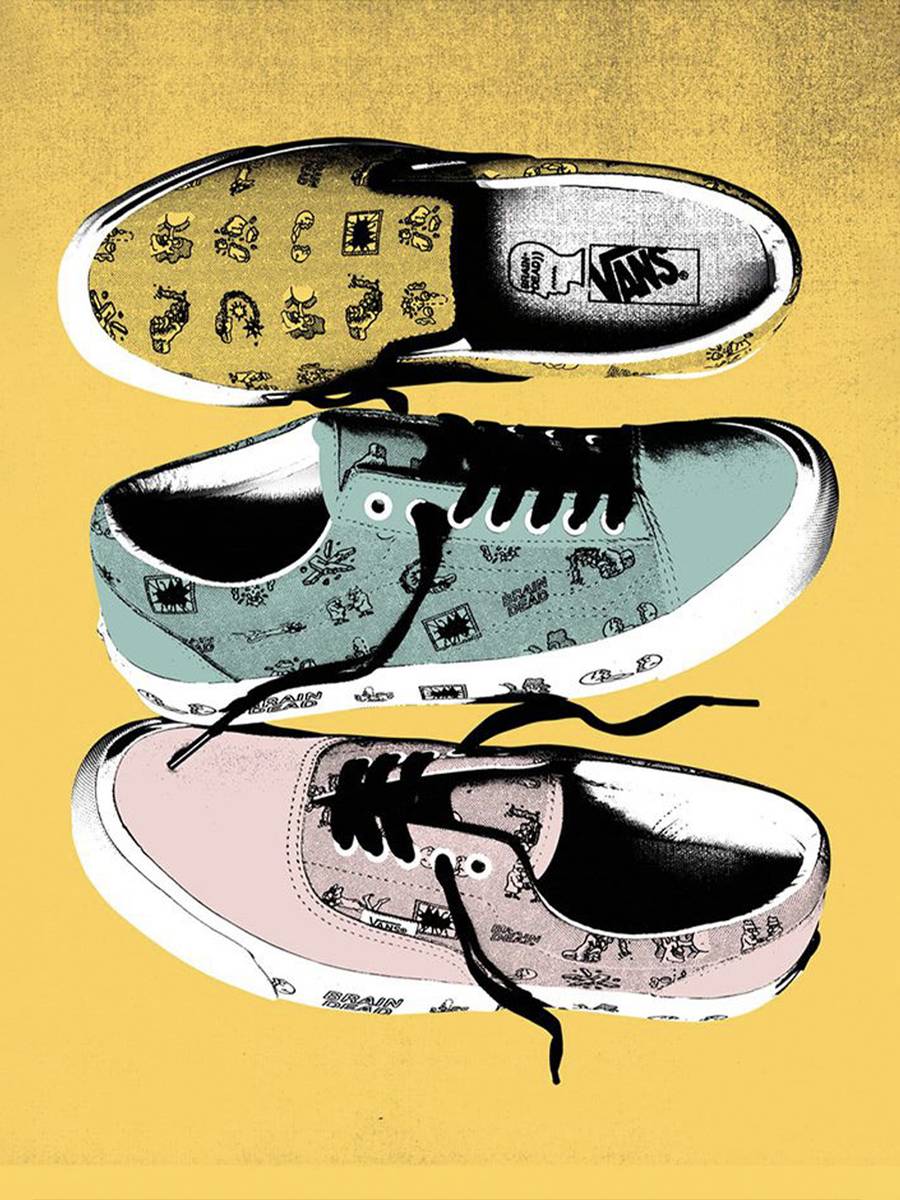 Vault by Vans x Brain Dead Old Skool LX, Era LX, Classic Slip-On LX, 2017
Now five years on, the Brain Dead team feels more confident in the direction they can take the Vans collaboration. "We're so much more conscious about our capabilities and about our community. That's why we decided to venture into wrestling and make it an experience. We felt ready to bring this experience to the people." 
The original wrestling concept had come about just a week earlier when they hosted the first Brainslam Pro Wrestling during Milan Fashion Week 2022 with Italian streetwear retailer Slam Jam and electronic radio station NTS. It was an experiment: the founders concede they were unsure of how the community would respond. However, a sellout prompted Brain Dead to hire the organiser, Madison Woodward, to develop Brainslam, a second wrestling event at Paris Fashion Week, complete with merch.
To bring the project full circle, Brain Dead enlisted Tony Robinson to be the skate team manager to create an authentic Bad Boys skate team. The video, directed and edited by Joel Haver features a motley crew of riders including Darby Allin as Concrete, Watts, Tuna Tardugno, Joe Castle Baker and more. It's opportunities like this to stretch his creative boundaries that drive Ng and Brain Dead forward, and draw him to partnerships like this one with Vans.
Braindead sees this partnership with Vans as something that will be ongoing. "We are glad to find in Vans a good team that's still able to connect with us after all these years. We feel like Vans is that family that's always there on your journey."