Features
Founded by two creatives, Reg and Amy, Smith & Goat, is a specialist creator of concrete homeware. Their pieces 

employ ambitious techniques of blending and casting concrete to produce unique pieces that become the talking point of any room. We went down to their East London studio to watch our exclusive new collaboration come to life. Check it out below...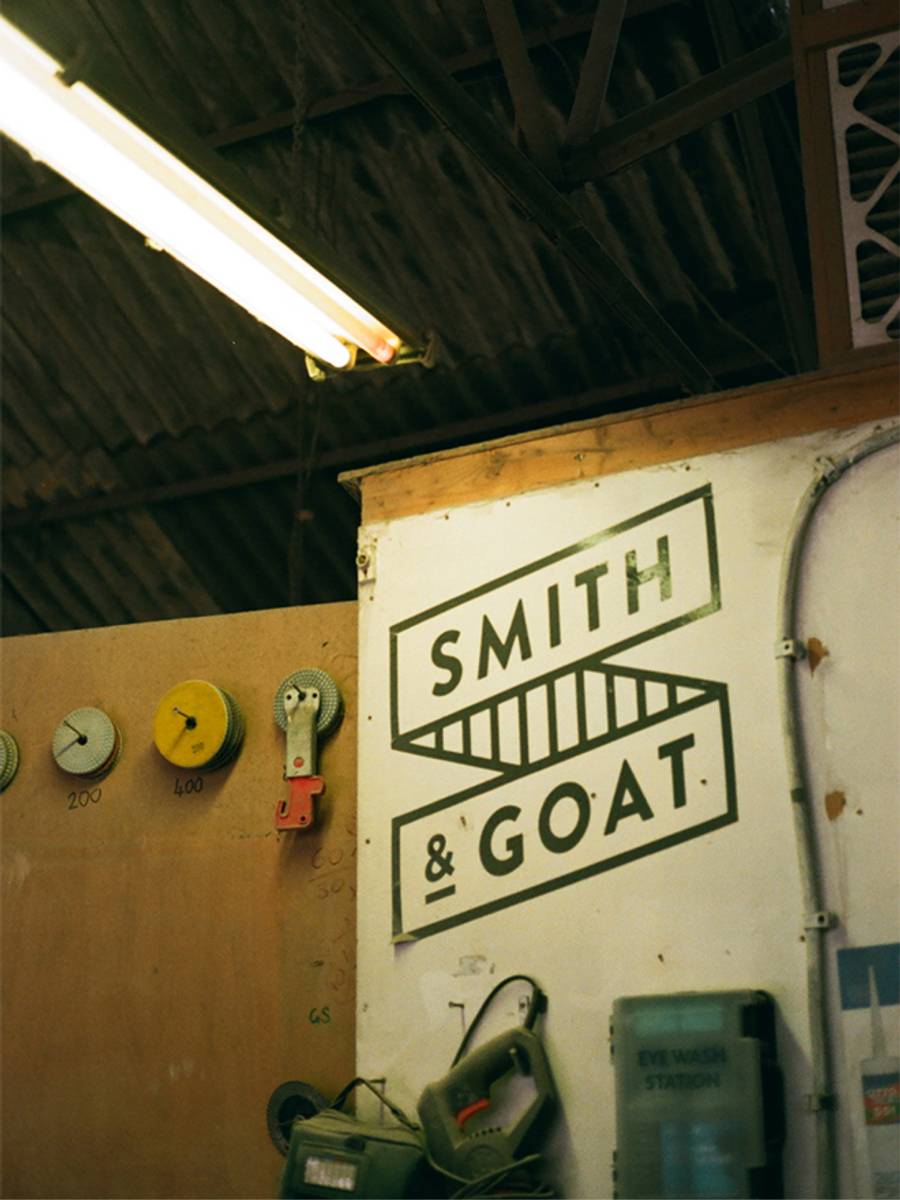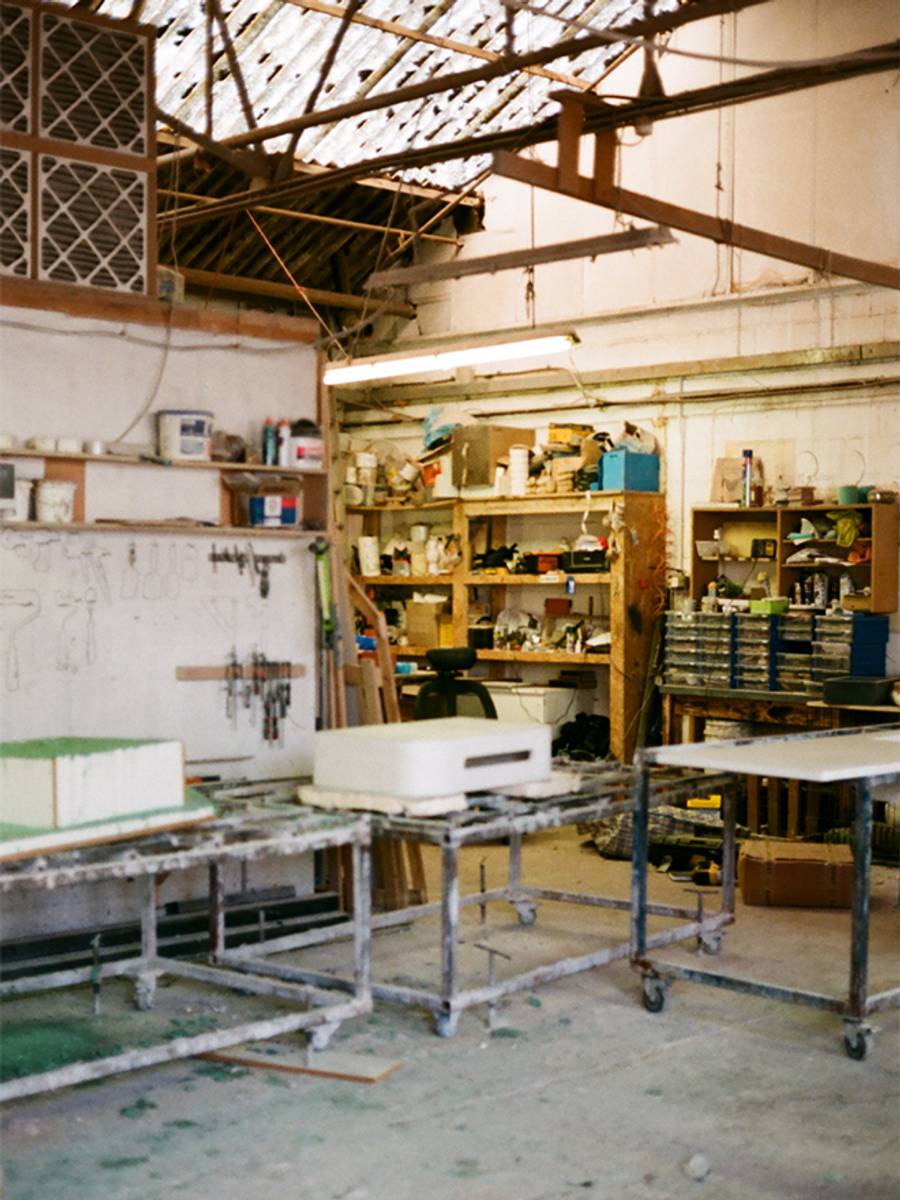 GOODHOOD: Can you tell us a bit about yourselves and your brand, Smith & Goat?
SMITH & GOAT: We are an independent, family-run business that makes beautiful things from concrete. From plant pots and trays to sinks, tables and counter tops. Amy and Reggie set up Smith & Goat and now have a small team working alongside them living the concrete dream, both in their workshop and the Walthamstow Village store.
GH: How did you start?
S&G: Five years ago, Reg started making pots for our own plants in his mum's shed and the business and passion for concrete grew from there. Over the years we've evolved organically to take on projects of all sizes, both residential and commercial and now have a happy home in our E17 shop. It's been a steep learning curve with the concrete and being a small business - every day throws up a different learning. We really love what we do and are so lucky to meet great people and work on amazing collaborations.
GH: With backgrounds in fashion buying and landscaping, what was it that lead you to create Smith & Goat?
S&G: We are both creatives and wanted to find a way to work together (not sure that was such a good idea now...) We wanted to work for ourselves to be able to fit around our two girls and make a flexible life that could work around them and build a legacy if they wanted to be involved in the future. Reg and our eldest daughter Sybil both have dyslexia, it's great for her to directly see her dad working to his strengths and succeeding in business.
"IT'S BEEN A STEEP LEARNING CURVE

 WITH THE CONCRETE AND BEING A SMALL BUSINESS - EVERY DAY THROWS UP A DIFFERENT LEARNING"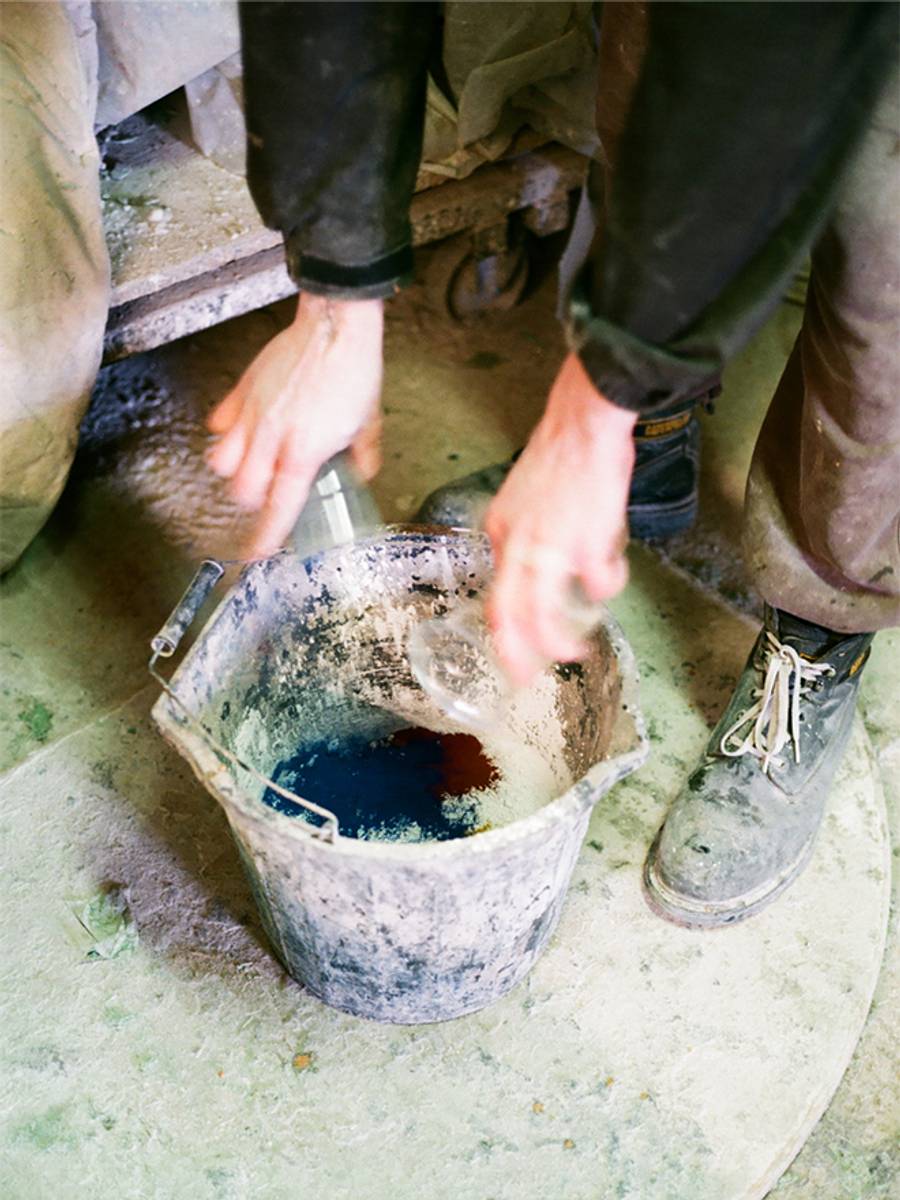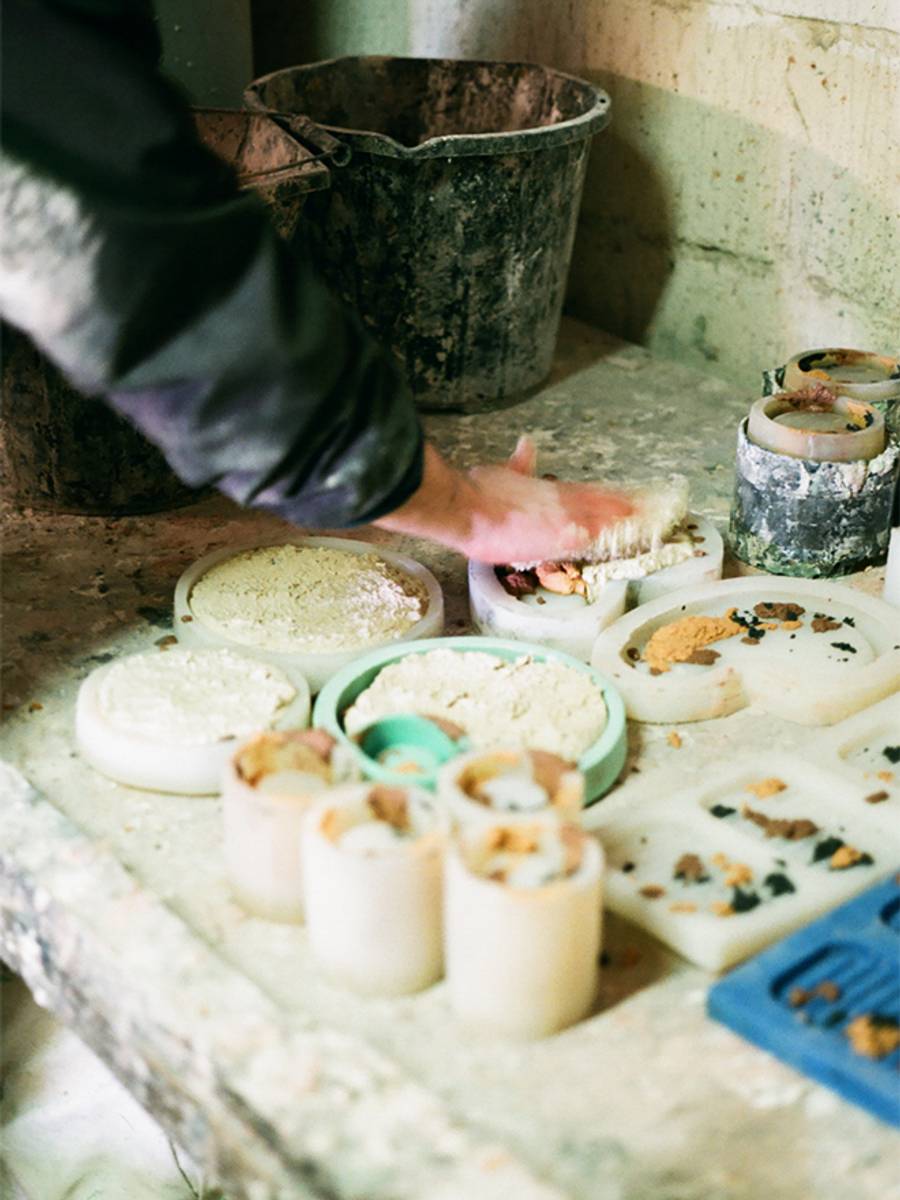 GH: Describe your company in three words.
S&G: Fun, Dusty, Organised Chaos – sorry four!
GH: Why concrete?
S&G: We ask ourselves that every day when we're covered in dust and heavy lifting! In all seriousness though, concrete is so versatile, both in what you can make and the colours and effects you can create. It's perceived as dark, brutalist and cold, yet what you can achieve by adding colour, shape and creativity to it is amazing. Every pour behaves differently, which is a double-edged sword of nightmare and dream, you never know quite how it's going to behave, so every piece created is unique in some way. 
GH: Smith & Goat was born the same year as your second child. How do you balance parenthood and running a company?
S&G: As anyone with a small business will know, it doesn't always allow for switching off, but we do get to juggle football games and ballet around our work most of the time, even if it's one of us instead of both and we catch up on work late at night, it's nice to have that option. We have a brilliant support network in our family and friends, which is vital as days can often be long and fly by! The girls love a workshop or shop day and are both really creative, so get stuck in.
"WHAT YOU CAN ACHIEVE BY ADDING COLOUR, SHAPE AND CREATIVITY IS AMAZING

"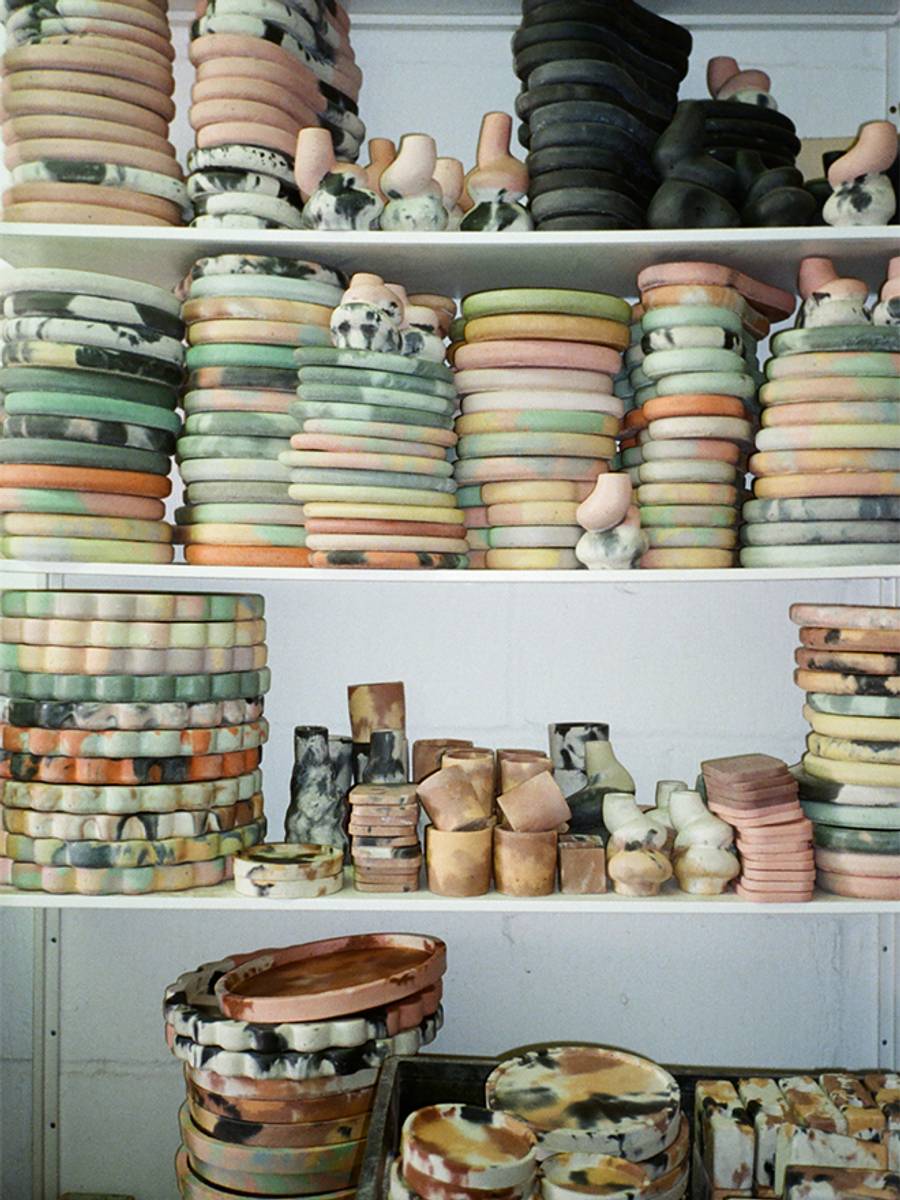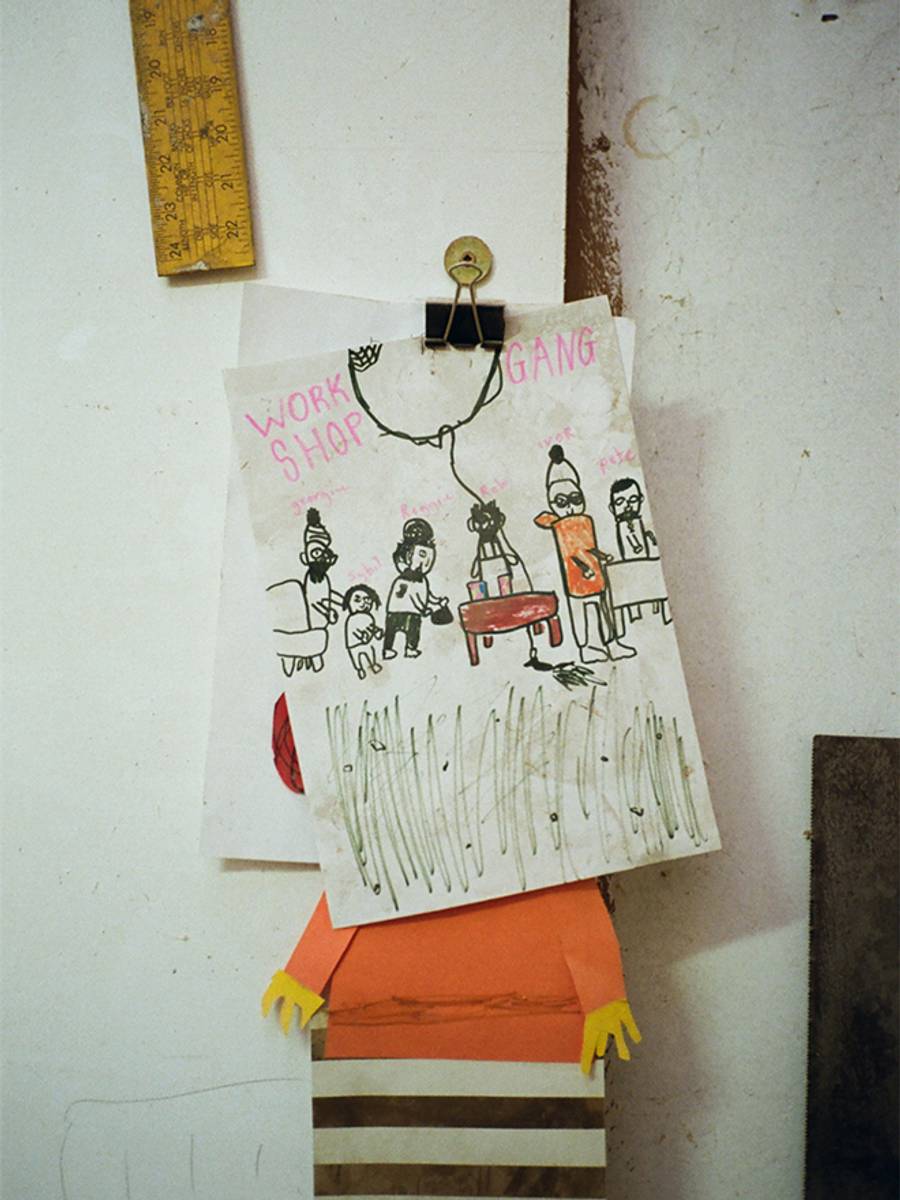 GH: What does your creative process look like?
S&G: We spend a lot of time on Instagram spotting emerging trends and thinking how we can tweak them to work with new shapes or colours. It's a lot of trial and error and a real team effort. Being public facing in our store, we get into lots of conversations around what customers want or are doing to their homes that can also set off an idea…. A new design is carved in wood before being poured in silicone to form a mould, from which we can cast the concrete. Once demoulded – a lovely pop sound! they are polished and sealed to a beautifully imperfect finish that is inherent in concrete before sharing with the world.
GH: What is/who are your main inspirations?
S&G: These guys are based in Canada and are amazing at what they do, we've long been inspired by them – www.concretecat.com.
GH: Talk us through a day in the life.
S&G: Reg is generally based in the workshop, covered in dust, tunes on making moulds for bespoke kitchens, sinks, tables or visiting a client to discuss or install a bespoke project. Amy will either be packing online orders, working in our store, or with our business manager covering anything from social media to updating our website or discussing collaborations and wholesale clients, all while juggling school runs. There is NEVER a dull moment and that's the way we love it.
"THERE IS NEVER A DULL MOMENT AND THAT'S THE WAY WE LOVE IT

"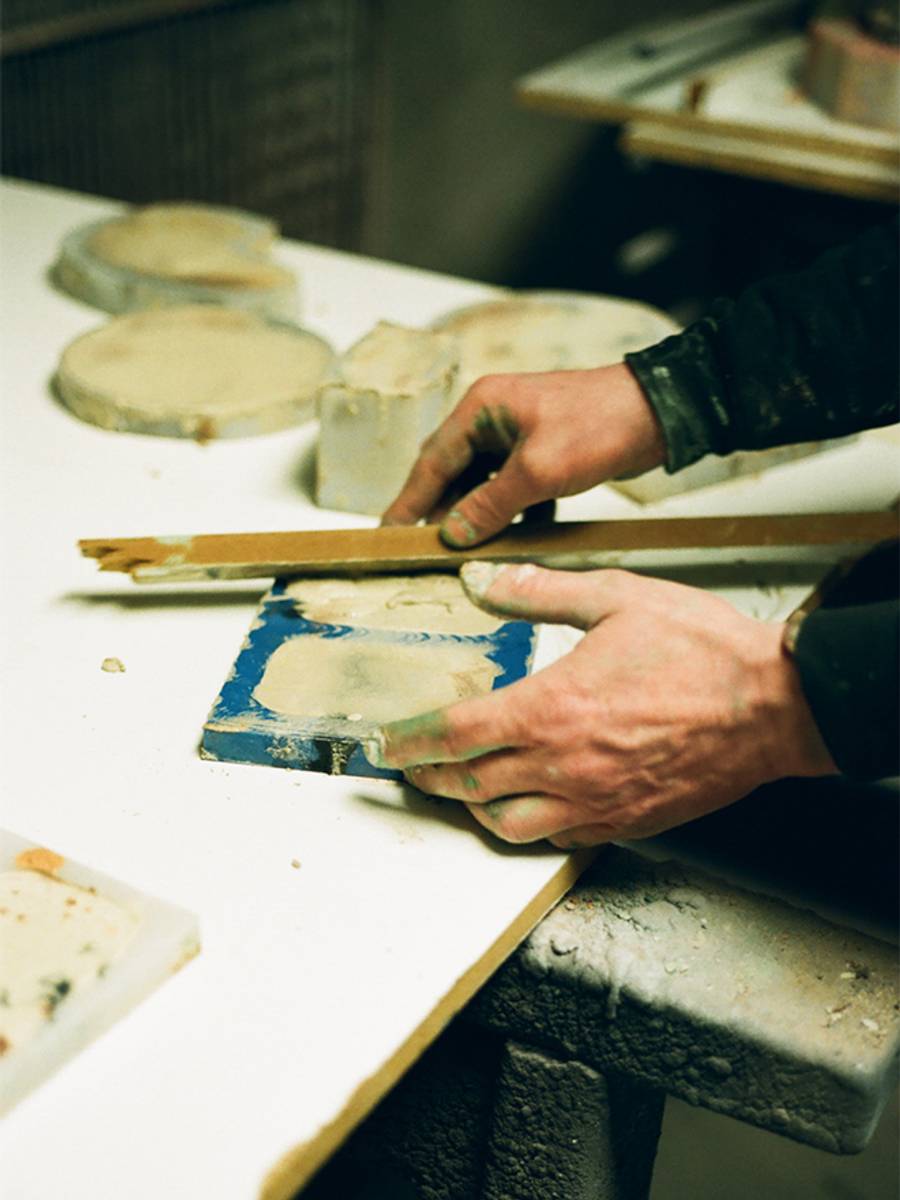 GH: Best record you've picked up recently?
S&G: We're more into podcasts at the moment – Ecstasy: The Battle of Rave was a great series! Listening to Gary Vaynerchuck is also great for motivation and all things entrepreneurial.
GH: How do you overcome creative blocks?
S&G: Always walk away and come back with fresh eyes is the first thing. We're a small but tight team, so if one of us is stuck, we'll work closely together to overcome it. There's so much we can do with concrete so it's never hard to think of new products, it's just having the time among the day to day to fine tune them that's more of a barrier for us. 
GH: What made you choose Walthamstow for the location for your shop?
S&G: It has such a great community with a creative vibe, full of great people looking for something unique. It was a no brainer for us when Word Store invited us to be part of their new lifestyle store.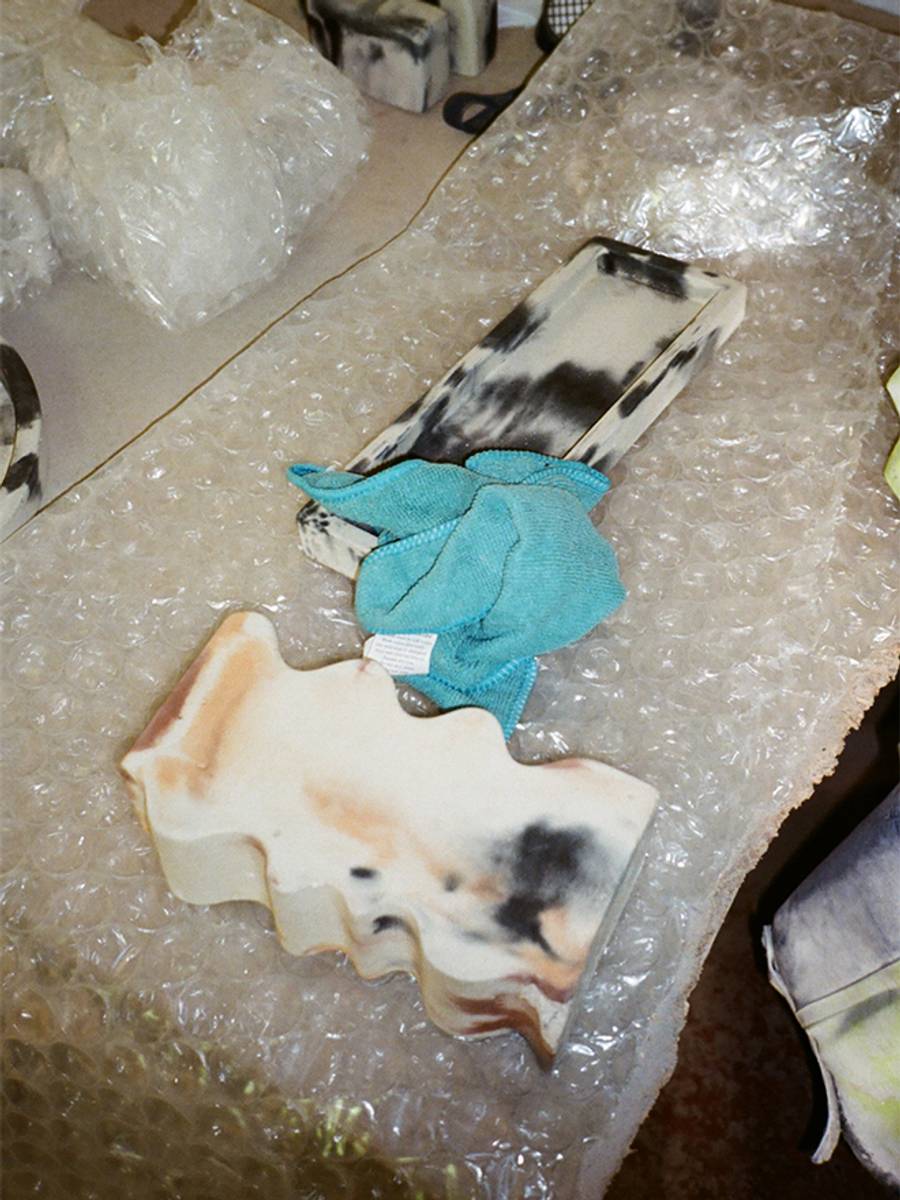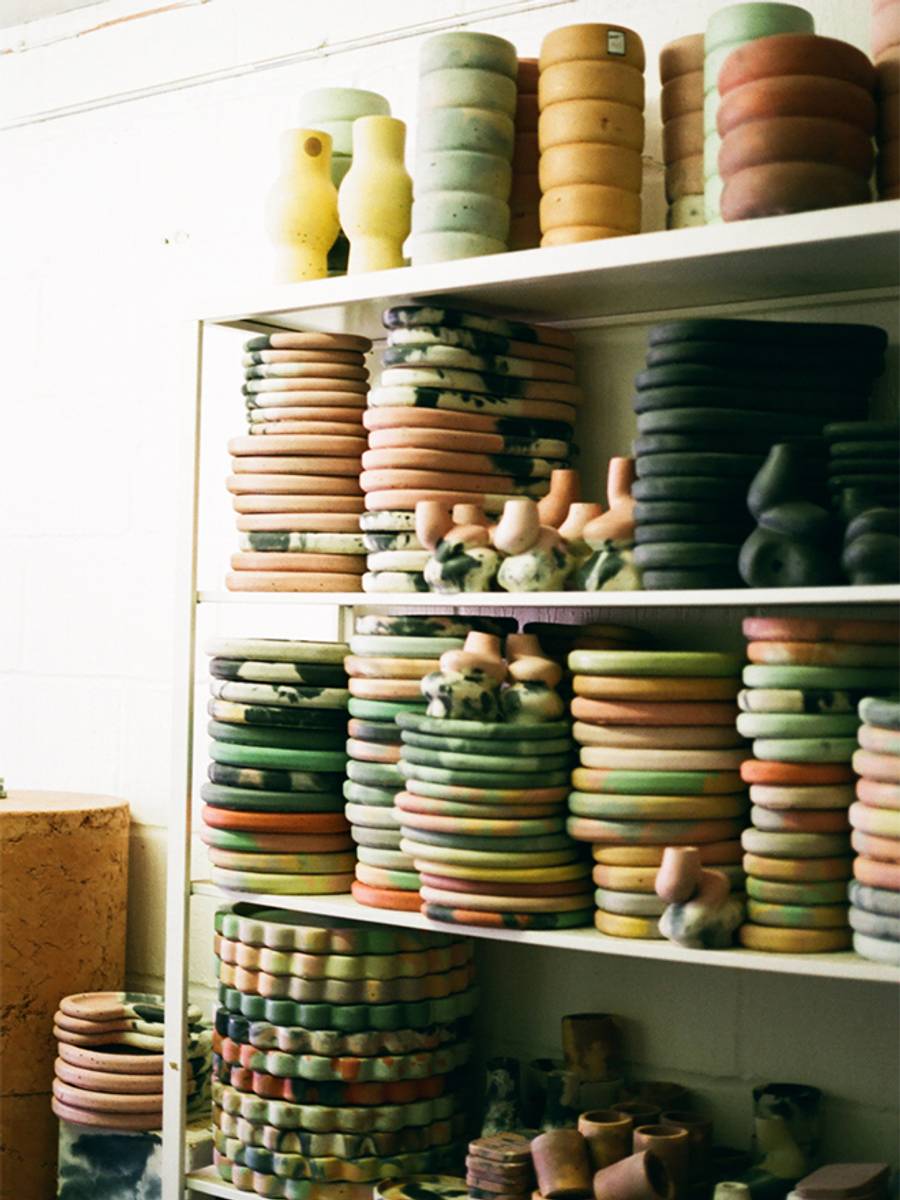 GH: What are your top 3 East London spots?
S&G: If we have a night off – Town Hall Hotel – love waking up there. If it's with the girls, it has to be Victoria Park – on a Sunday so we can have something great to eat too. With friends it would be Crate at Hackney wick having beer and pizza in the sunshine.
GH: What are you reading at the moment?
S&G: I've almost finished Bernadine Evaristo's 'Mr Loverman' highly recommend.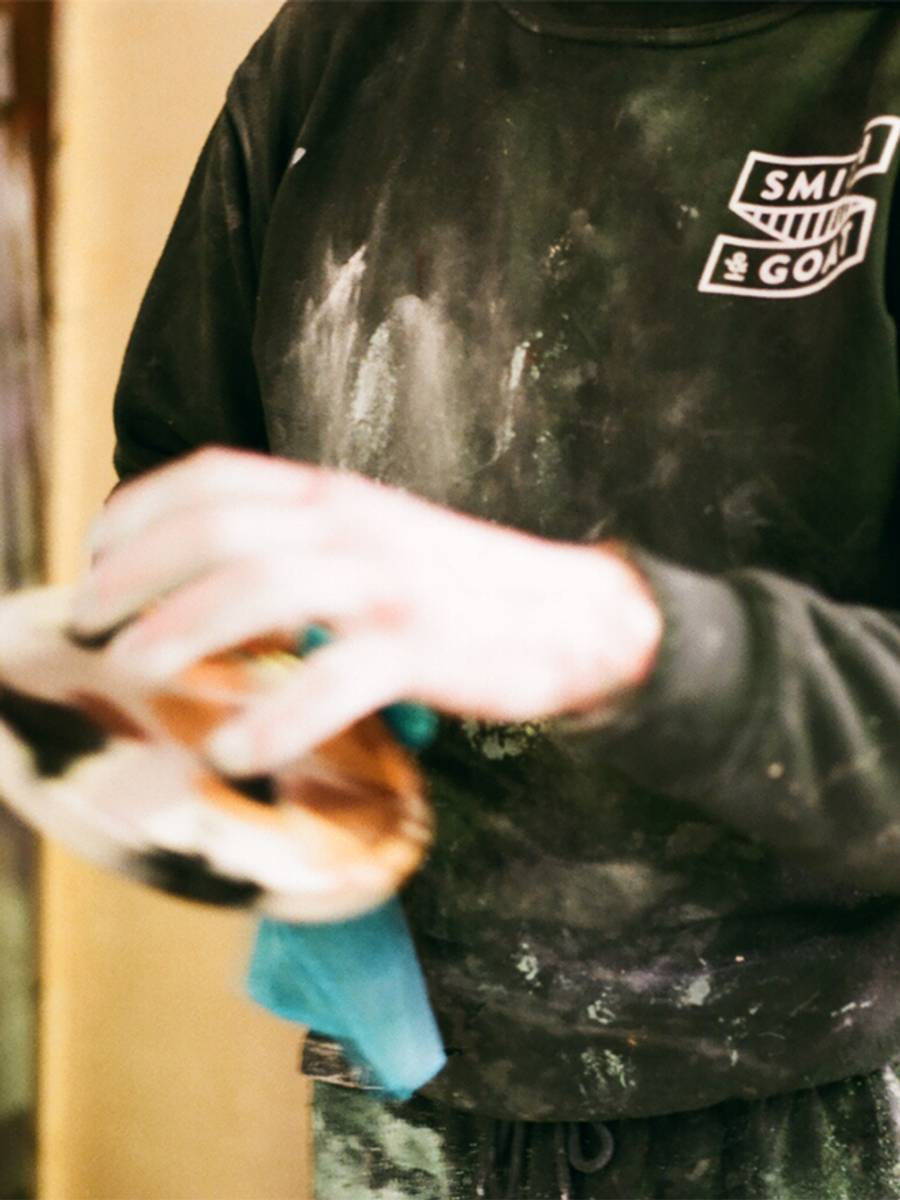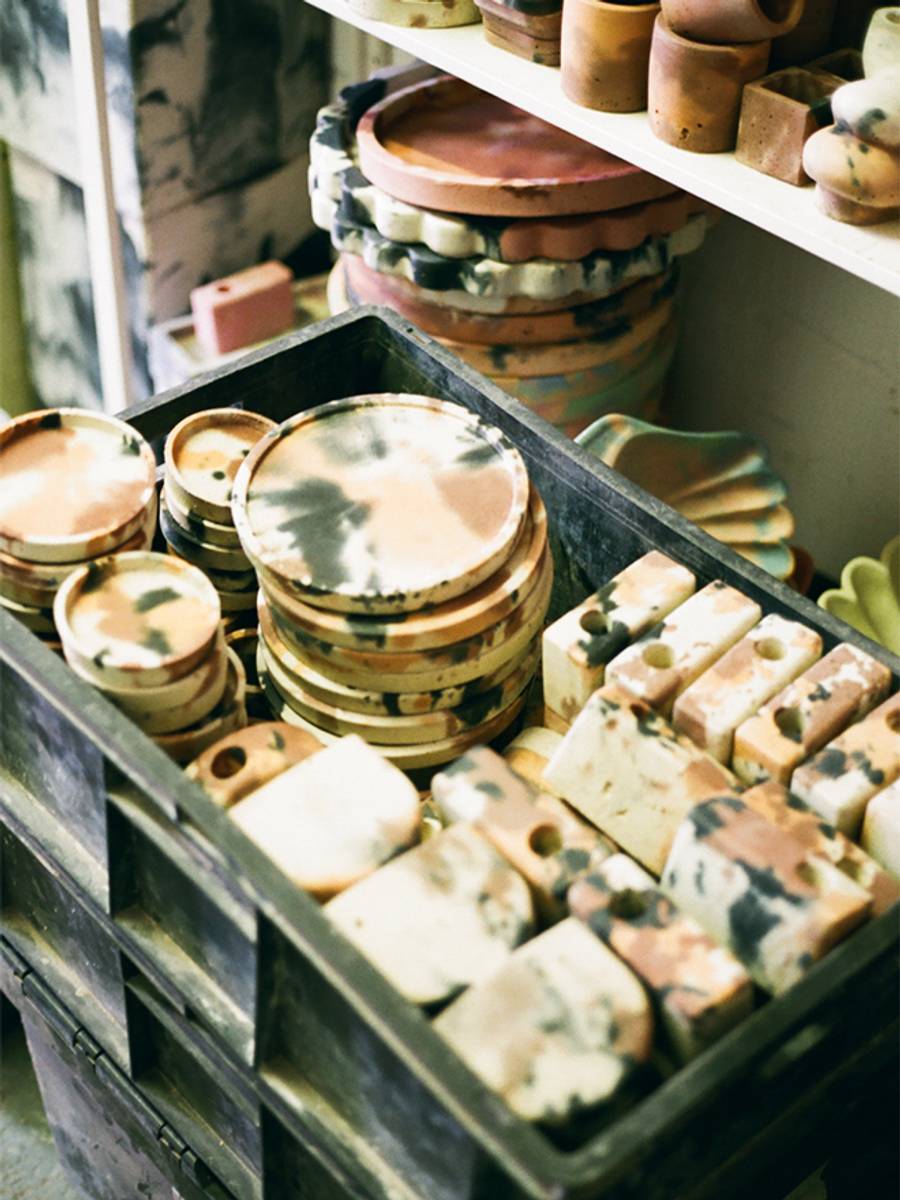 Pictured above: Goodhood x Smith & Goat collaboration
Pictured above: Goodhood x Smith & Goat collaboration
GH: What advice would you give to yourselves back in 2017 when you started your business together?
S&G: Don't do it!! Just kidding, whilst being hard work, it is hugely rewarding. We would have taken the financial risk earlier to build a skilled team around us to help run the business and social media. We'd tell ourselves not to try and do everything on our own, and you can't please all of the people all of the time.
GH: What's next for Smith & Goat?
S&G: We'd love a larger space for our store, We want to be able to showcase all our bigger pieces and have a place where people can come and hang, have a coffee and fall in love with our concrete. We plan to grow both our retail and social media, so if you love TikTok and a Reel – get in touch!! We've some brilliant commercial projects on the horizon that we're excited about and some new products up our sleeve for the coming months. And of course, this beautiful new collection exclusively with Goodhood – the dream!