Features
We visited the South East London studio of Heresy, a new graphics brand that explores the murky world of mysticism and folklore, to meet founders Jasper and Dominic to find out how they're presenting once-forgotten stories to a new audience.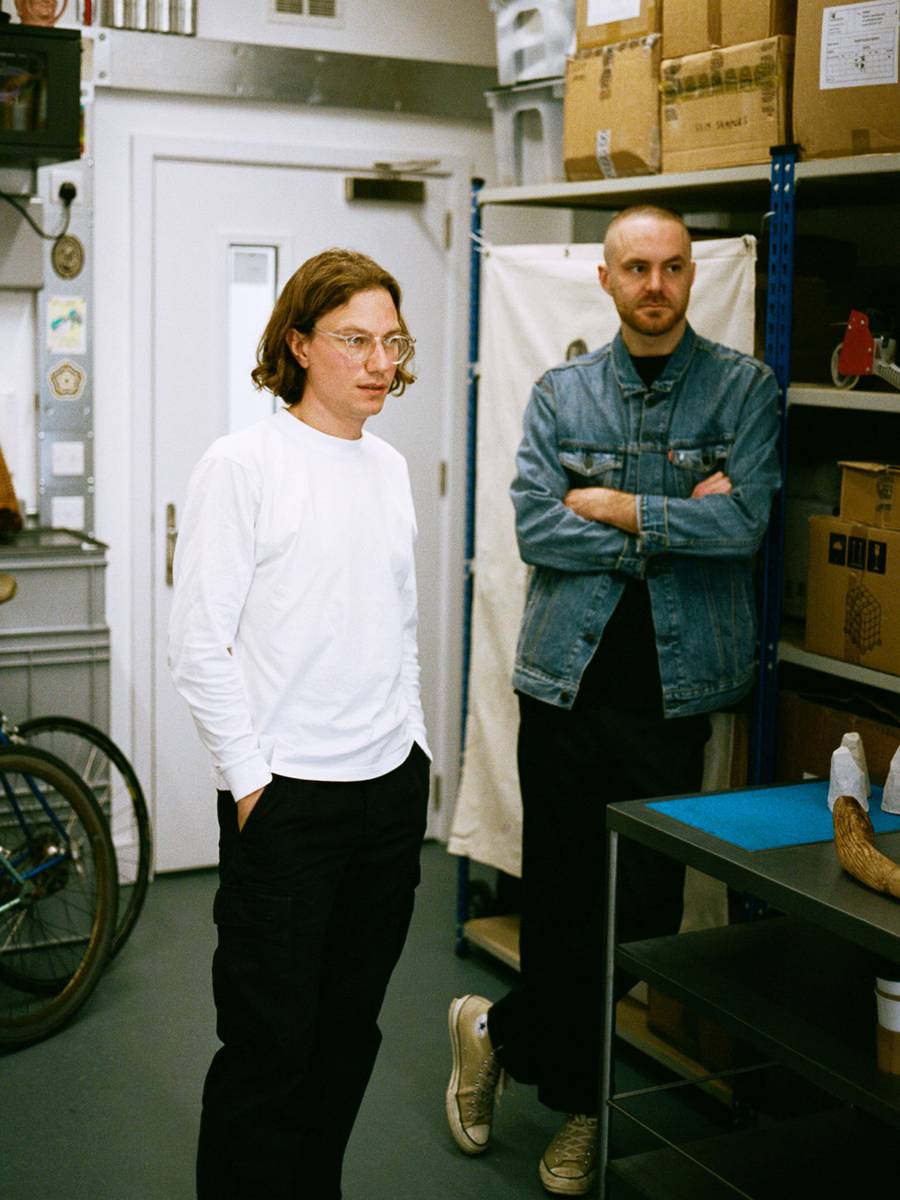 Dom and Jasper in Heresy's South East London studio.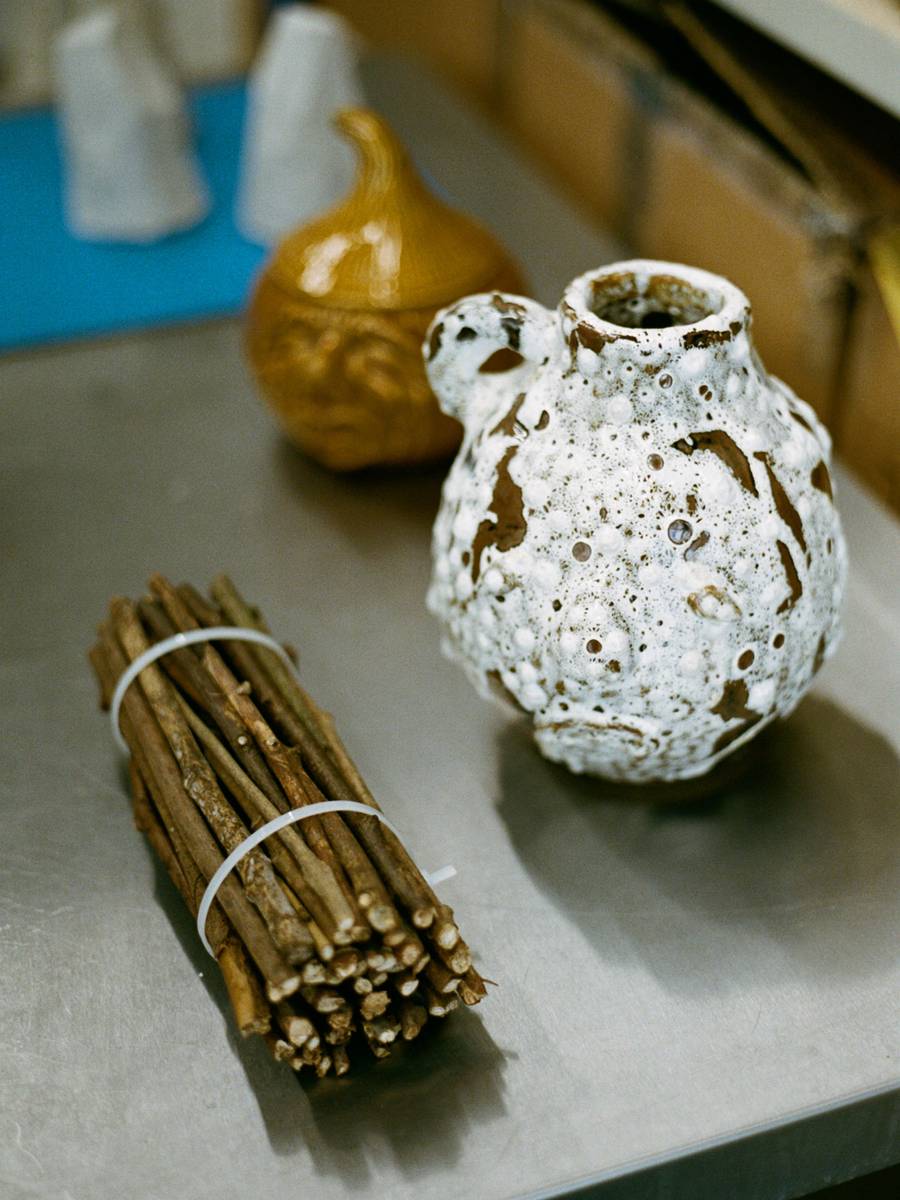 Ceramics and objects on display in the studio.
GOODHOOD: How did Heresy start?
JASPER DUNK: Dom and I met when we were 14 and have been friends since school. We ended up doing our foundation year together and studied illustration at university together, and have always made loads of collaborative work.
DOMINIC OWEN: We just started printing t-shirts casually as a way to keep working together. When we had the launch, everyone was really supportive and it was quite well received, so I think at some point we were like, actually, maybe this should be our job. So we started taking it more seriously and doing proper seasons.
GH: How come you wanted to explore folklore?
JD: I think as we grew up, folklore was always an interest. I looked at it at university, and it's something that exists everywhere. Even here in Deptford, they have their own Jack in the Green and we just discovered the other day there's a South East London folklore society that meets once a month to talk about various subjects. We always start projects and collections the way we did university, so loads of it is really research-based and at the beginning of the collection we figure out an area of that we want to explore and then we usually go to the British Library, read a load of books, and find a load of imagery.
"WE ALWAYS START PROJECTS AND COLLECTIONS THE WAY WE DID UNIVERSITY, SO LOADS OF IT IS REALLY RESEARCH-BASED."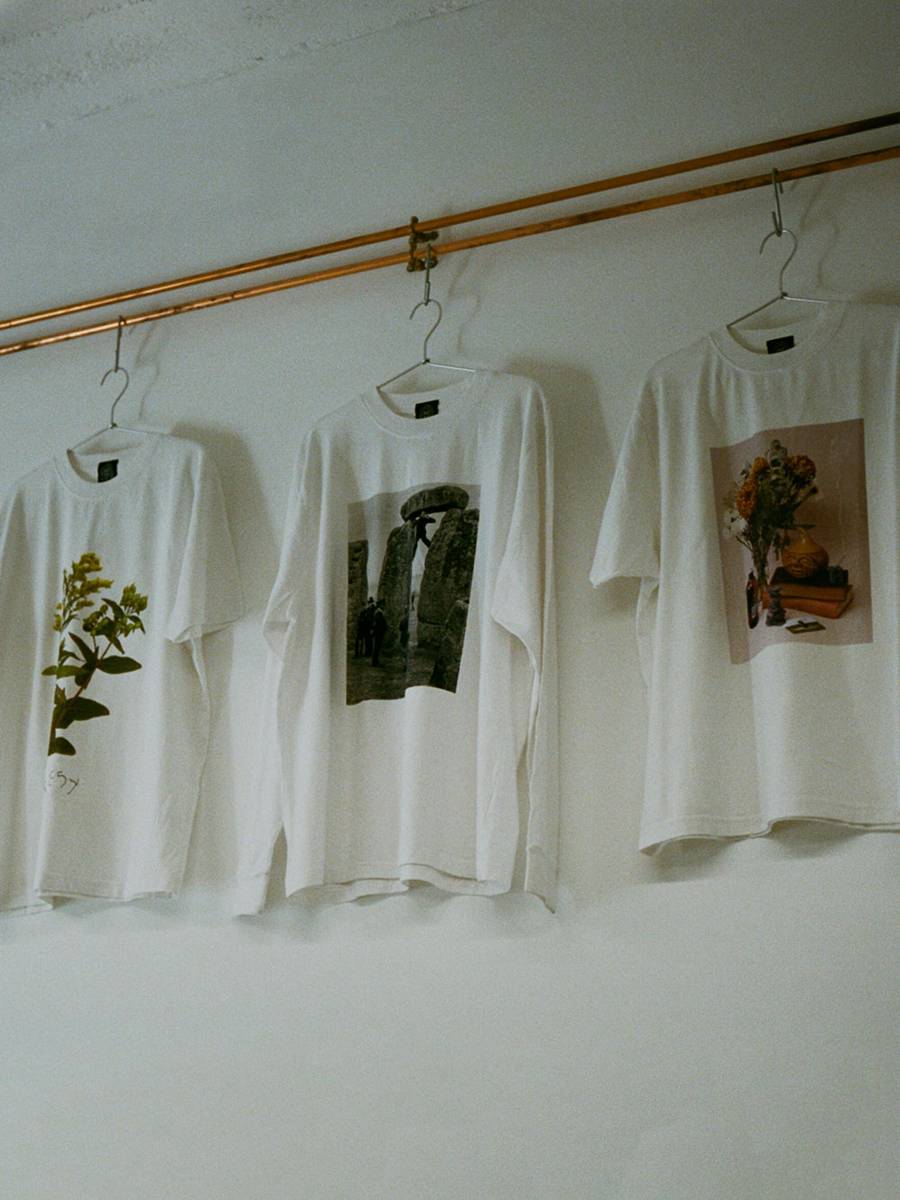 A collection of t-shirts from previous Heresy's collections; (from left to right) AW19, SS19, and AW18.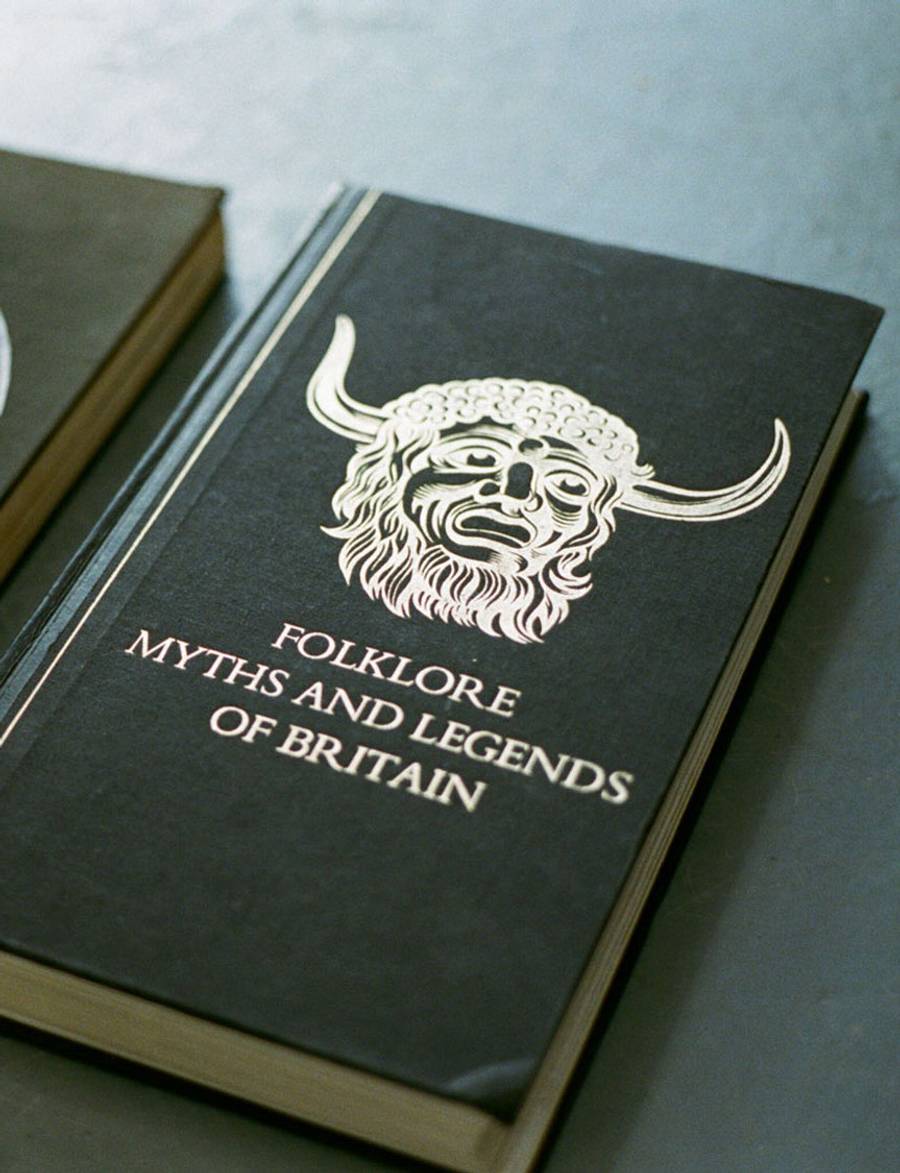 A selection of books Jasper and Dom reference in their collections.
GH: 

Where have you looked specifically for this collection?

JD: We darted around for a little bit looking at Alpine Folklore and the American Deep South but we decided that the most relevant thing was to keep focussed on British Folklore. This one, specifically, was about hermits. It's not very cool to be British at the minute, so we thought it was cool to dig through all this old stuff that might be forgotten or whatever, find cool things about British identity, and present that to a new audience.
GH: 

Looking at the bigger picture, why do you think folklore is so prevalent in Britain?

JD: It might have something a little bit to do with island mentality, something similar to Japan when you can get a bit of an inward-looking thing. It breeds 'niche' culture that's quite highly developed. We're a really old country too and a lot of British folklore is derived from Paganism, but we've also found that a lot of it has revolved around drinking as well. British people like drinking. The pub's an important place for storytelling, it's where people meet. Folklore is also quite narrative but it's via word of mouth which is how it's all evolved, and a pub is a place where that would happen a lot of the time.

DO: A really nice thing about telling people about the brand is that everyone you meet always has some story that we haven't heard. It's nice because even though there are infinite amounts of information on the internet, you don't always come across everything. So it's really nice to get a new story or a new area of interest out of just having a conversation with someone, and usually, that happens in the pub.

 
"IT'S REALLY NICE TO GET A NEW STORY OR A NEW AREA OF INTEREST OUT OF JUST HAVING A CONVERSATION WITH SOMEONE, AND USUALLY, THAT HAPPENS IN THE PUB."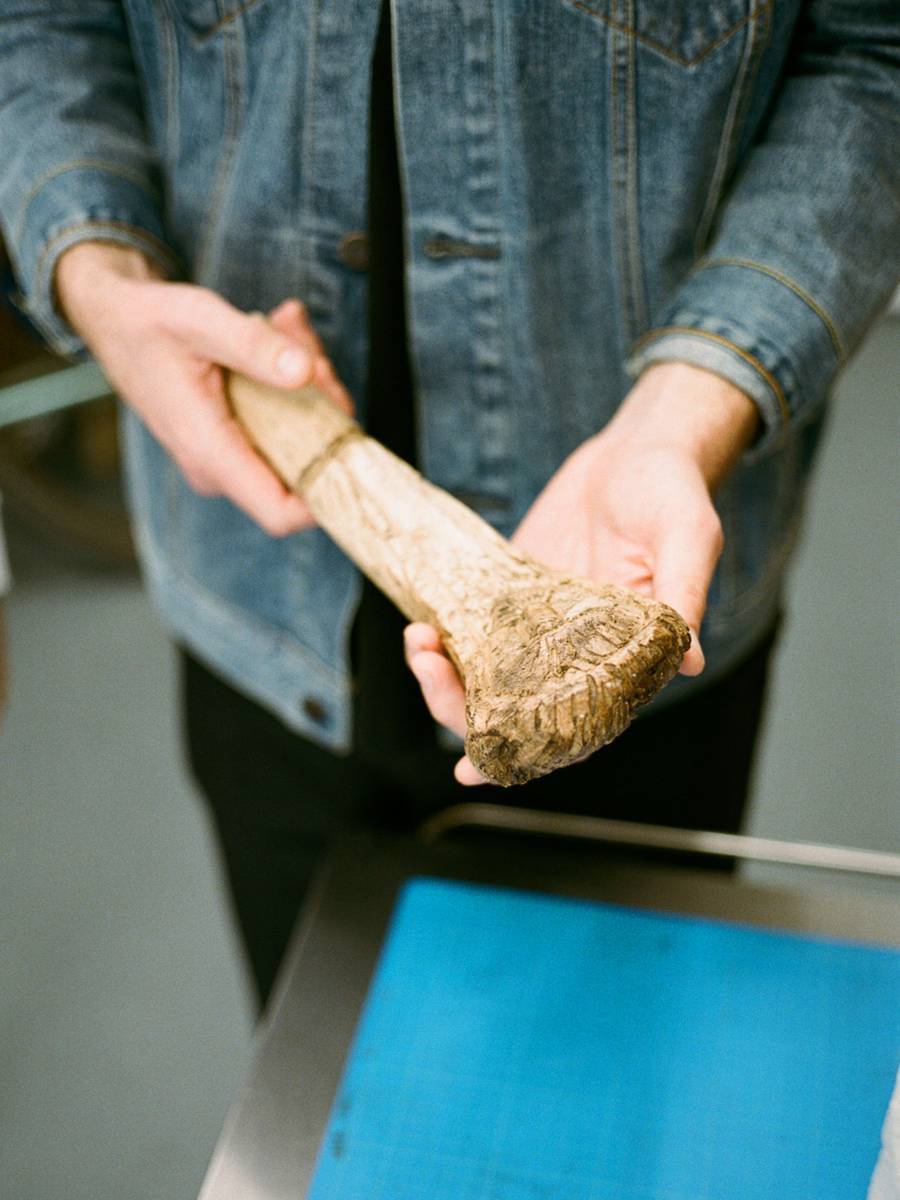 Jasper explaining the stories behind the objects and art in his studio.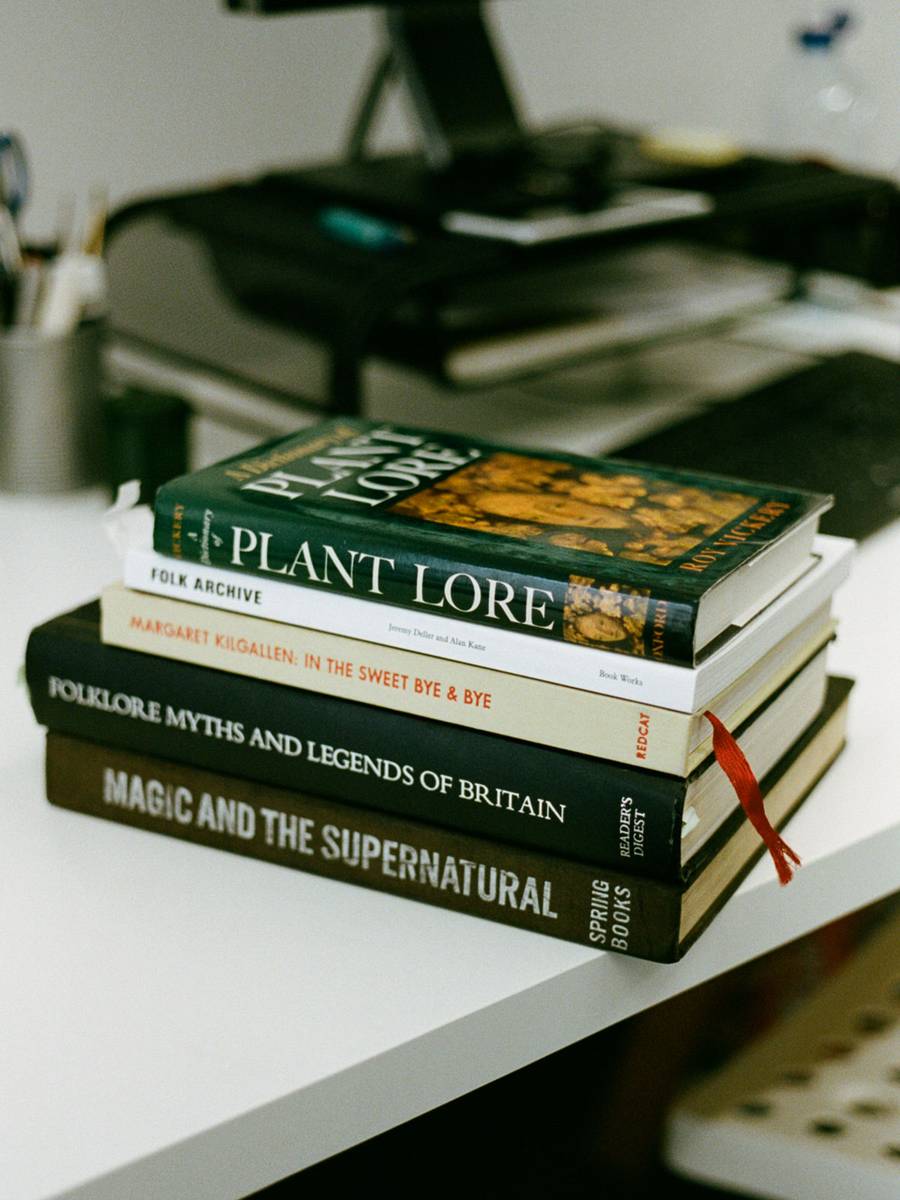 More books Jasper and Dom have used for reference in previous collections.
GH: 

You're quite involved in music stuff as well. What's the deal with that?

JD: Dom and I probably became friends through music, it started with UK hip-hop, but like it's a massive part of what we do with Heresy. We always used to put on nights and stuff and I think we're going to try and do a bit more of that this year. Now we're sort of working on a sound system, which is quite exciting. I think we just need some sort of communication with that world, even though we don't make music it's really important. We've also got a mix project which we started when we started the brand and we've been pretty lucky to have some really nice people get involved.

DO: We're actually doing a collaboration with Spiritland, a venue in King's Cross, where we're designing some t-shirts. We've done a slipmat too, and we're programming 3 nights there over the next 6 months where we've got a few people we know involved.
GH: Tell us about your SS19 Collection?
JD: The SS19 Collection is all to do with the folklore of the sun. I think we wanted to explore Stonehenge a little bit because it's the classic British one and we pass it all the time when we go down to the West Country.
DO: We're also thinking ahead to AW19, looking at mandrakes and plant folklore. There's this black metal musician called Botanist and he's created his own take on nature taking back the world. It's not something we've looked into before so it was fun doing that.