Features
We visit the home of Gasius head honcho Russell Maurice to talk the origins of the label, art, nature, inspirations, London living and much more.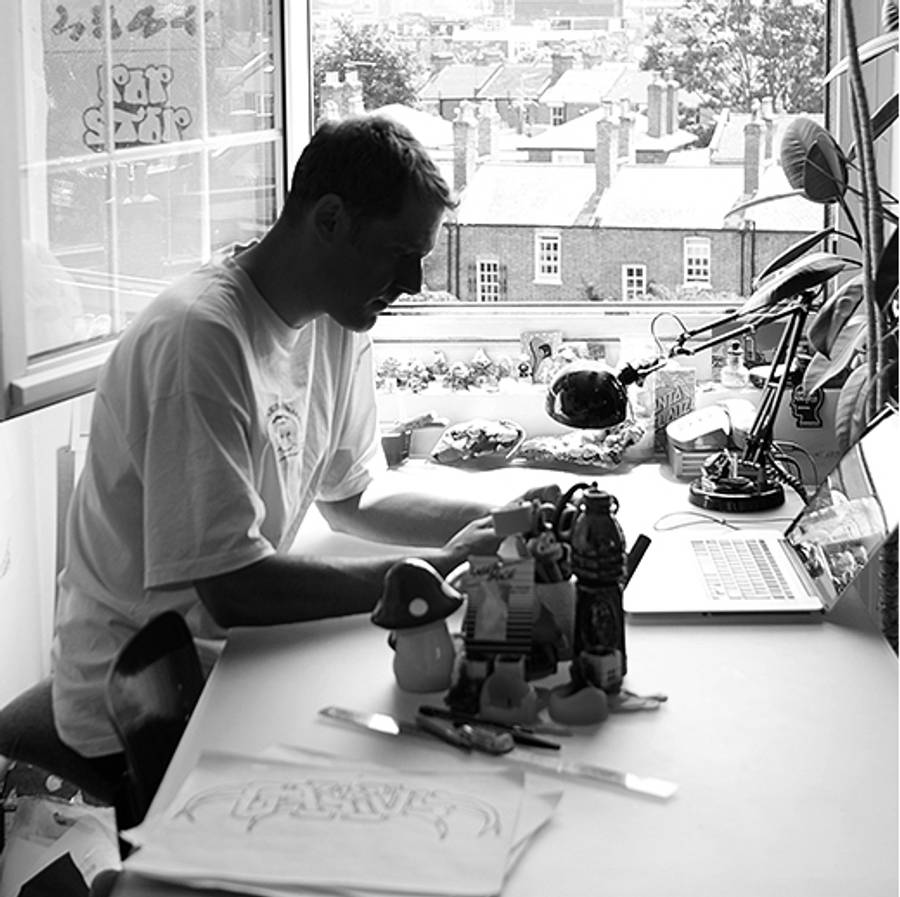 Russell Maurice in his London home.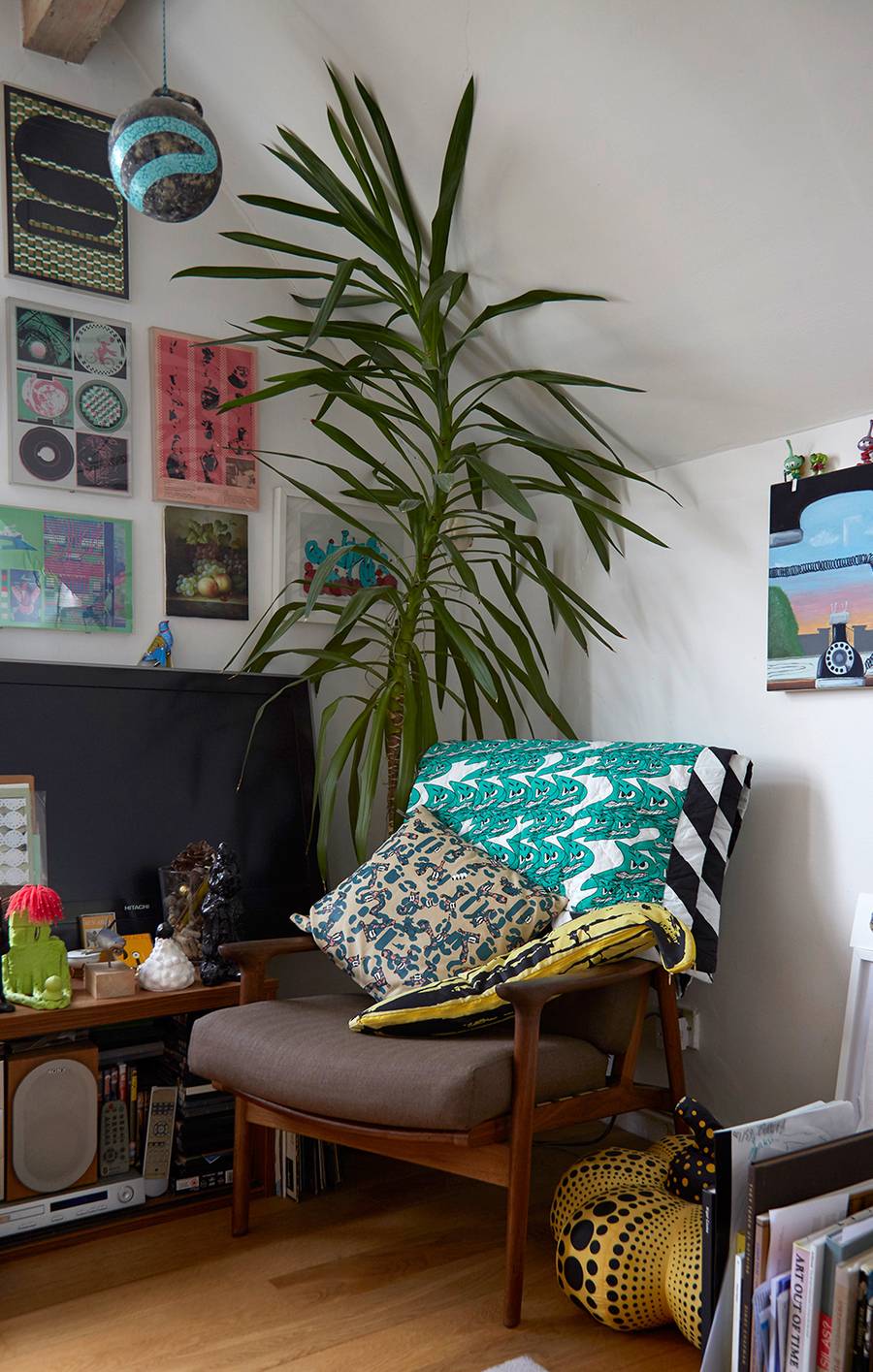 Hay Berhard Wilhelm throw, Gasius Medicom Collab cushion, Maharishi Andy Warhol Bananna cushion, Yayoi Kusama Pumpkin
GOODHOOD: You were born and raised in Newcastle; how was that and what were your influences growing up there?
RUSSELL MAURICE: It was a good place to grow up - it had a really good graf scene first, then in the 90s a really good skate scene, a good rave scene. It was enough! I well enjoyed it. There was always quite a lot going on and enough people to have a community in all the scenes, which overlapped a lot also.. especially when raving started, I remember the first one I went to and it felt like EVERYONE in town was there that night, and everyone was 'very happy' and together haha. White doves.
GH: When and why did you make the move down to London?
RM: I moved down to London to do graphics at college when I was about twenty. I went to college in Epsom. It was a good place, I liked that it was close to green space and easy to get into town. Big up the Surrey Massive.
GH: You split your time between both London and Tokyo - which do you prefer and why?
RM: I like bits of both places and dislike bits of both. They're two very different places. I feel a lot more free here in London in terms of rules and law, but I feel a lot more safe there... (Especially in these last few weeks of London!). I mean, I can feel free there too, I think its all in your own head. Tokyo is still new to me, even though I've spent a lot of time there, it's so vast. Theres A LOT to learn about how things roll.
GH: Artistically free or just general day to day?
RM: General life definitely. Japan is a very rule based, well behaved society whereas in London there is a lot more freedom. Both have their pluses and minuses.
"I FEEL A LOT MORE FREE HERE IN LONDON IN TERMS OF RULES AND LAW."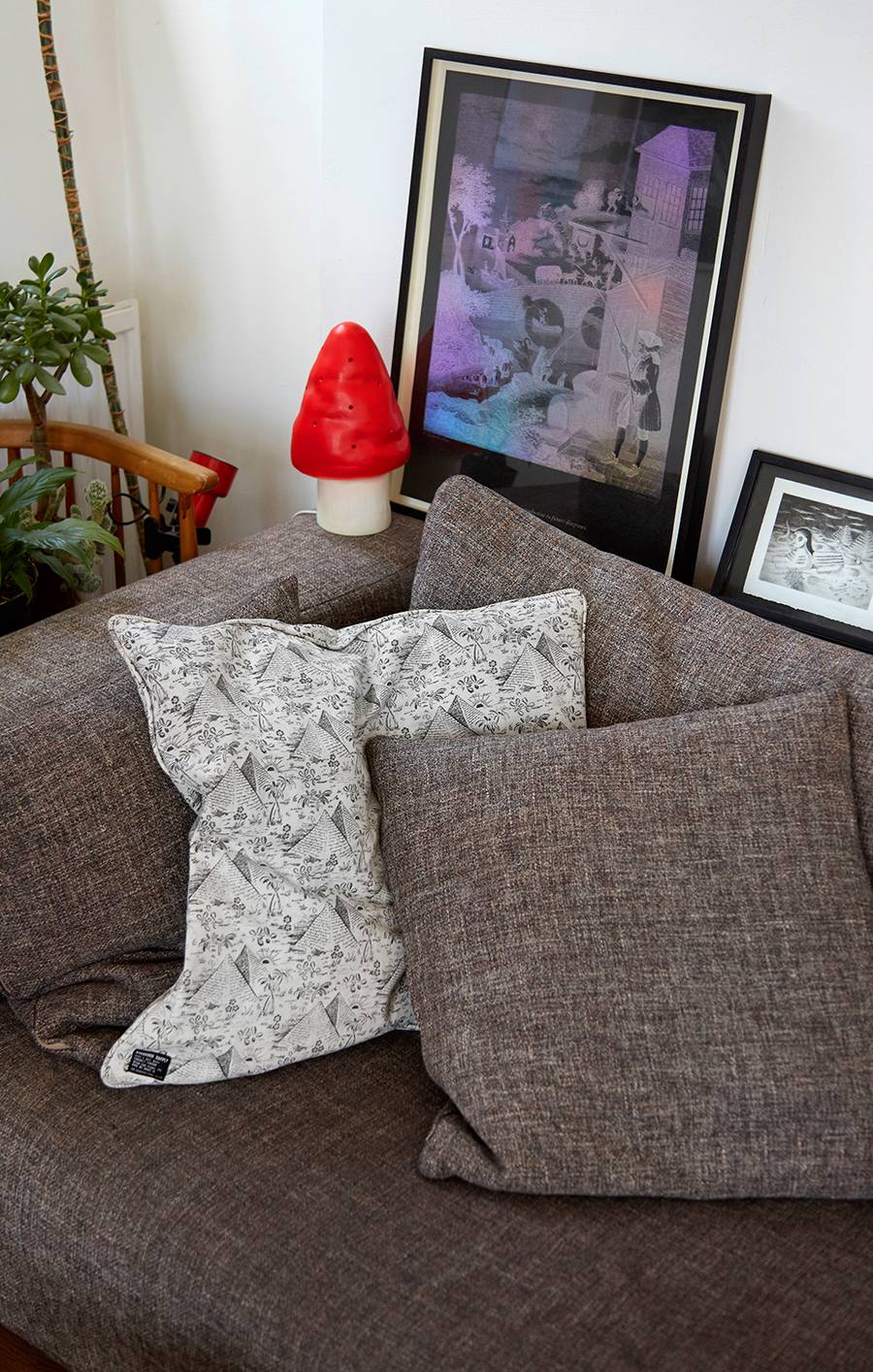 Goods By Goodhood cushion, Ami Clarke.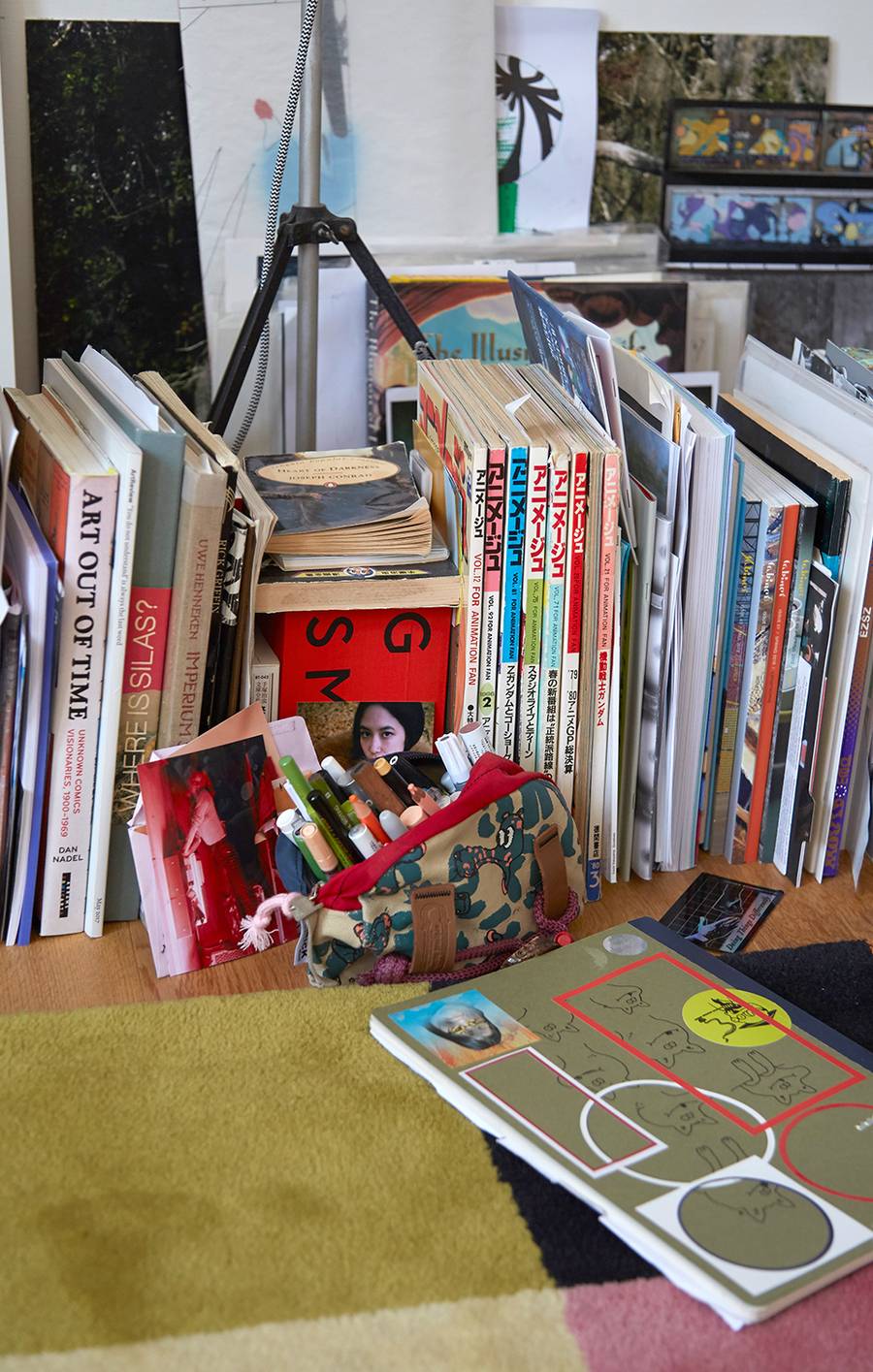 Gasius Medicom pencil case, and various reference books.
GH: Is nature a big inspiration for you and your work?
RM: It has been, but now it's mostly just about headspace, and again just feeling free I guess. That's why I got this place in Tuffnell Park, it was the closest I could afford to Hampstead. I've been going up there like every day or every other day…it's so nice, walk, smoke a zoot, draw, drink a beer, these last weeks I've seen birds of pray, woodpeckers, heard owls and got sunburnt... all in Zone 2!
GH: If you could choose three favourite items in your house, what would they be?
RM: That's impossible to answer dude! One of my favourites are these Todd James paintings. They were in a show at Mikkel's gallery in Copenhagen; V1 Gallery. Or my Paolozzi collection. Actually can I be non-descript and just say my Art collection, wait no, my books, ah fuck I dont know.
GH: Has London changed since you've lived here and if so, how?
RM: Massively. The Movement of cool from west to east! Then the East End turning into the West End and loads of hideous new buildings being chucked up in about thirty minutes... Yeah, I dont know, haha. It's ever changing, but I guess any city is.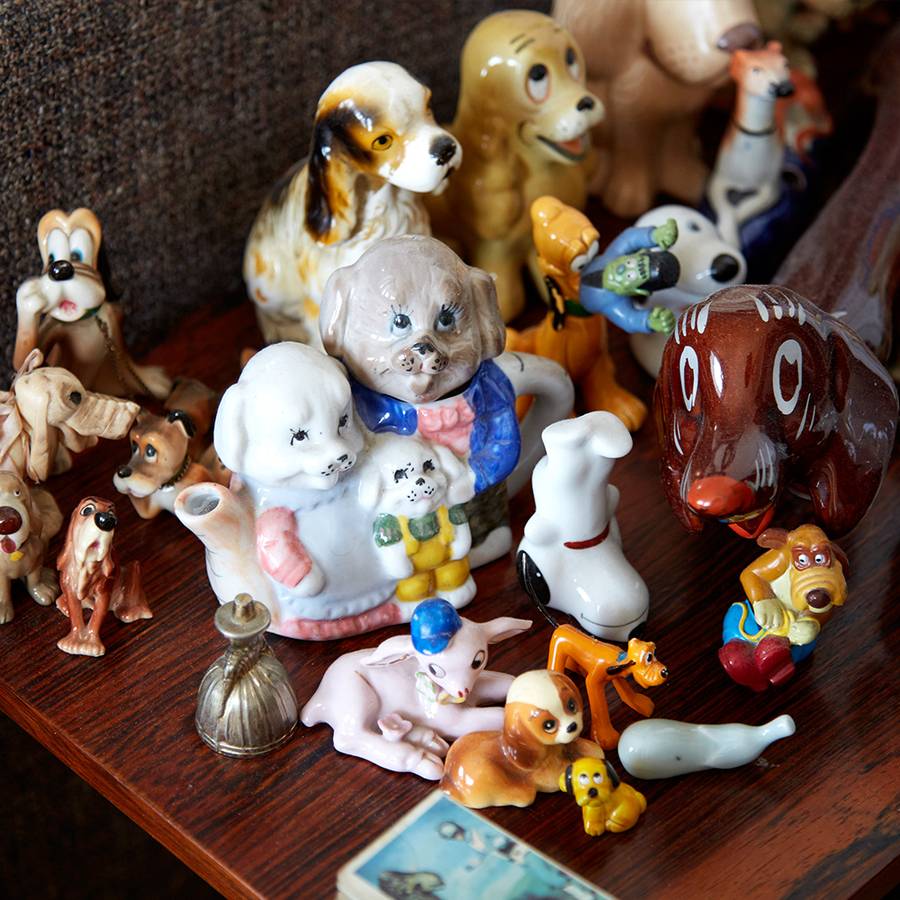 GH: What do you prefer when it comes to making art or making clothing?
RM: Art. I feel more pressured by clothes, it has to be cool or its fucked ey. Art I can make some weird shit and not care.
GH: Gasius morphed from the original 'Gasface' label. What was Gasface and how is Gasius different?
RM: I think Gasface was a little more random, I just did prints that I liked that could be cool, or funny, but Gasius has been a little more together and considered; collection based and I guess it has built up its own style.
GH: Who or what keeps you inspired?
RM: The list is long. Just always looking and looking and collecting. Tokyo has been a pretty big source, living there has definitely effected my aesthetic a little.
GH: How important is music to you and also to your work?
RM: To me, vastly. I rarely have silence. To my work, I guess it has been in the past (like obviously what the hip-hop movement gave me...in this I include Graf... this guided my life and so my work too). I guess music is linked with my work now, just culture and attitude, I can't think of any specifics ... but I like being involved in it. I wish I had more life so I could make some.
"I GUESS MUSIC IS LINKED WITH MY WORK NOW, JUST CULTURE AND ATTITUDE, I CAN'T THINK OF ANY SPECIFICS ... BUT I LIKE BEING INVOLVED IN IT."
GH: What are your three most played records at home?
RM: Axis Bold As Love, Their Satanic Majesties Request, Mister Heartbreak.
GH: What does the future hold for Gasius?
RM: Woooh, I dont know. I'm excited about things at the moment though, started working with some really good people and next season (Computer Love) was the best yet, it's in some sick new accounts... so all of this makes me super excited about what can happen. I just wanna be able to make some nice items. The season after we're doing some cut and sew which I'm looking forward to and hoping to expand if all goes good!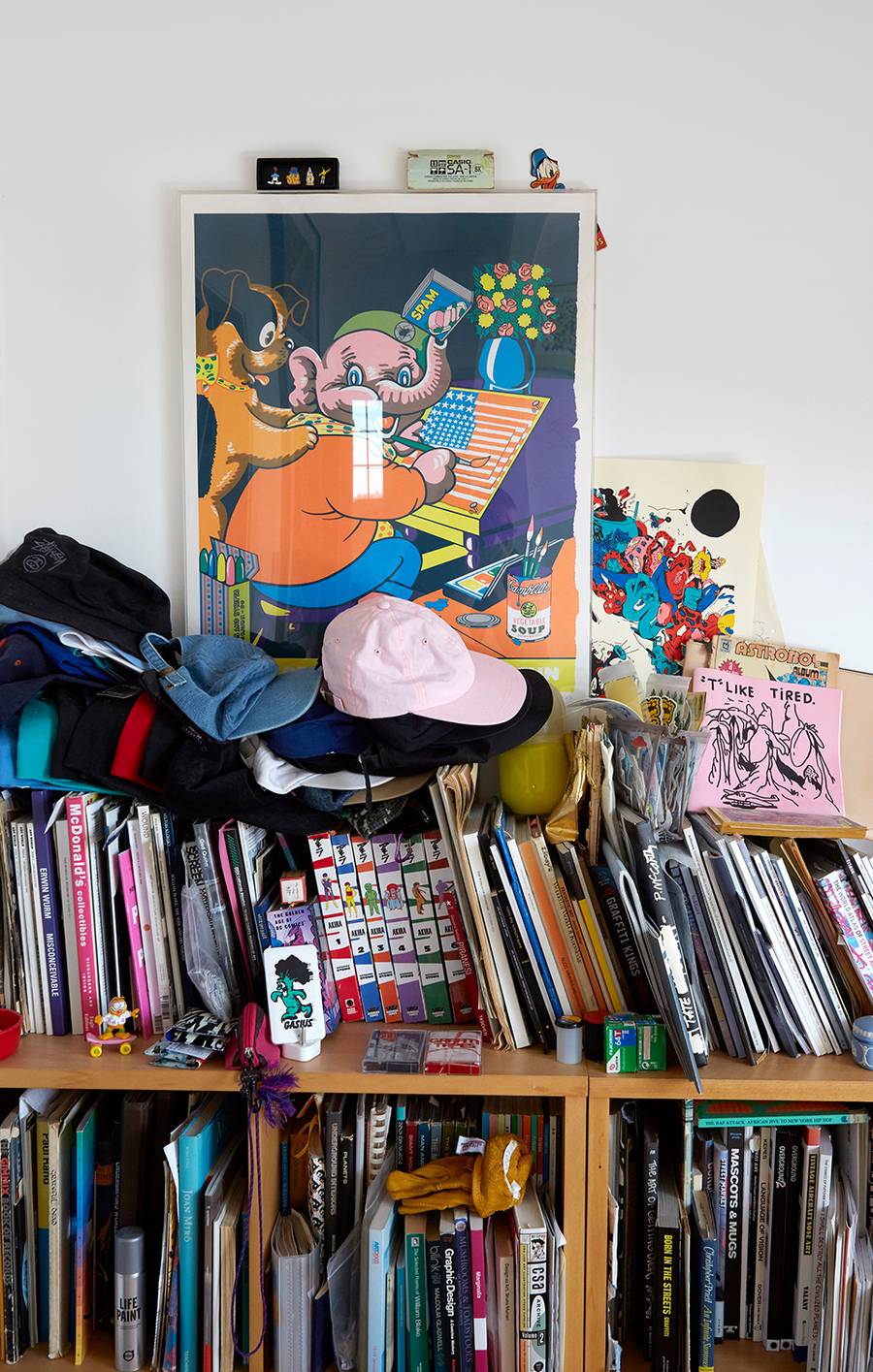 Eduardo Paolozzi artwork surrounded by various ephemera.