Features
Kicking off the first round of our What's In Your Tote? series; the legendary Cali DeWitt. The Los Angeles based multi-disciplinary artist / designer / longtime Goodhood favourite was in town and rolled through the store. We gave him a tote bag to fill up with his favourite items on the shop floor. Check out his selections and why he chose them below.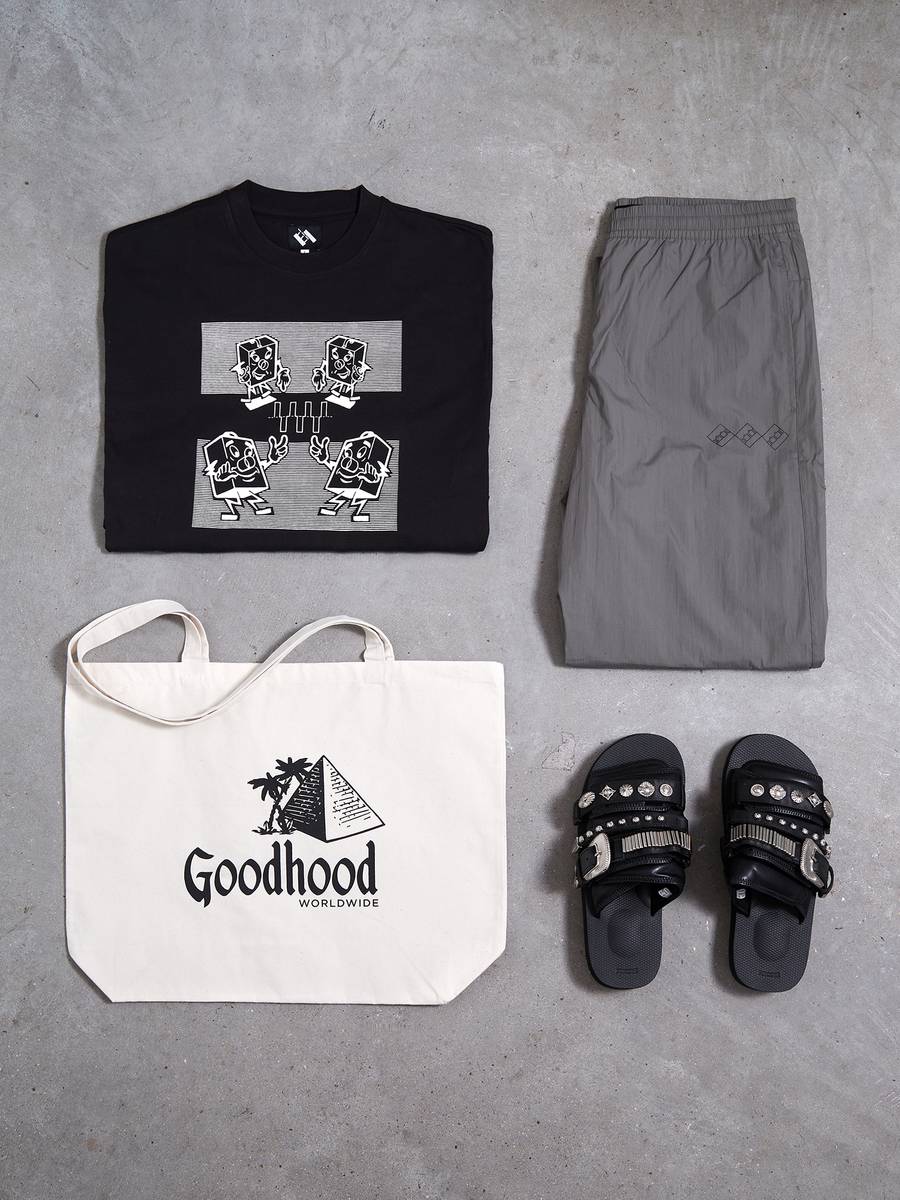 CALI'S PICKS:
The Trilogy Tapes Electronics T-Shirt, The Trilogy Tapes Tech Fabric Beach Pants, Suicoke x TOGA Moto Sandal, Goods By Goodhood Worldwide Tote Bag, Goodhood Worldwide Worldwide Sock
GOODHOOD: Any ideas on what you're going to pick out today?
CALI DEWITT: I'm going to pick out an airport fit. I fly back to LA tomorrow so I'm going for comfort. I'm really into TOGA so I'm looking forward to seeing what TOGA you have.
GH: What on the t-shirt rail is catching your eye?
CD: The Trilogy Tapes' t-shirts. I'm a big fan, I've been on them since the start, I love what they put out.
GH: How are you enjoying your time in London?
CD: London's been great. I haven't been here as much as I've been to other places. London is pretty big so there's a lot to discover. Like earlier, I was in Soho and I walked here [Shoreditch], I'd rather walk everywhere. I haven't seen anything here for a while so it's exciting you know?
"THE TRILOGY TAPES T-SHIRTS. I'M A BIG FAN, I'VE BEEN ON THEM FROM THE START"
GH: Do you have any go-to's in London?
CD: Not really. I haven't really been here that much. I've been here a couple of times in the early '90s, then I didn't come back for 12 years. I like Waste! a lot. I discovered them pretty much straight away [when they first opened] and I really like them. I like what they're doing. Roydon and Jack, I love those guys.
GH: It's always nice going to a place and seeing the people that run it on the shop floor too.
CD: Yeah for sure!
"VEGYN HAS SORTED ME OUT WITH ALL THE MACHINES SO I CAN START DOING SHOWS AGAIN FROM HOME"
GH: You've been shooting with Aries today. How'd it go?
CD: Good! I shot it, and I really believe in making that kinda stuff. And I'm not really a photographer, so…
GH: I don't think that matters so much.
CD: I don't either. We all have cameras, so we can all take images.
GH: Any plans to pick up your NTS show again?
CD: I'm gonna start those again. I stopped during the pandemic because I could no longer go there to record, and I didn't have any of the stuff at home. Vegyn has sorted me out with all the machines now so I can start doing shows again from home. I've got about 200 hours of music to play…
GH: Love the gold teeth by the way.
CD: Thank you. I had to really rot my teeth to get these. I had to get a bone graft because I didn't have a strong enough jaw bone to take the bolts.